JUST LIKE LAST YEAR, WE ARE CONTINUING TO OFFER A SELECTION OF FLOWERS TO OUR CATALOG, INCREASING THEM AS WE JUST LOVE THEM.  ESPECIALLY THOSE BRILLIANT EASY TO GROW VARIETIES THE BUTTERFLIES AND POLLINATORS LOVE AS MUCH AS WE DO.
FLOWERS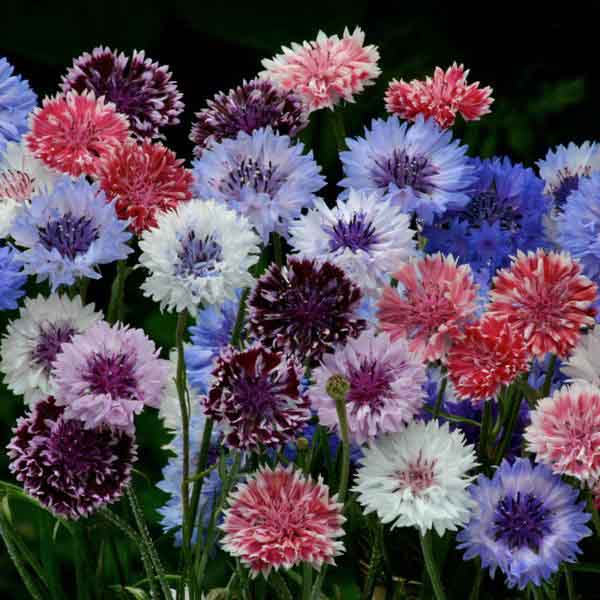 Bachelor's Buttons
Bachelor's Buttons or Cornflower is a pretty, annual heirloom flower that is both beautiful and super easy to grow.  The plants get nearly 2′ tall and are covered with multi-colored blooms all summer long.  They work well alone or in cottage garden mixtures.  Our family's gardens have never been without this well-deserved favorite.  50 seeds per pack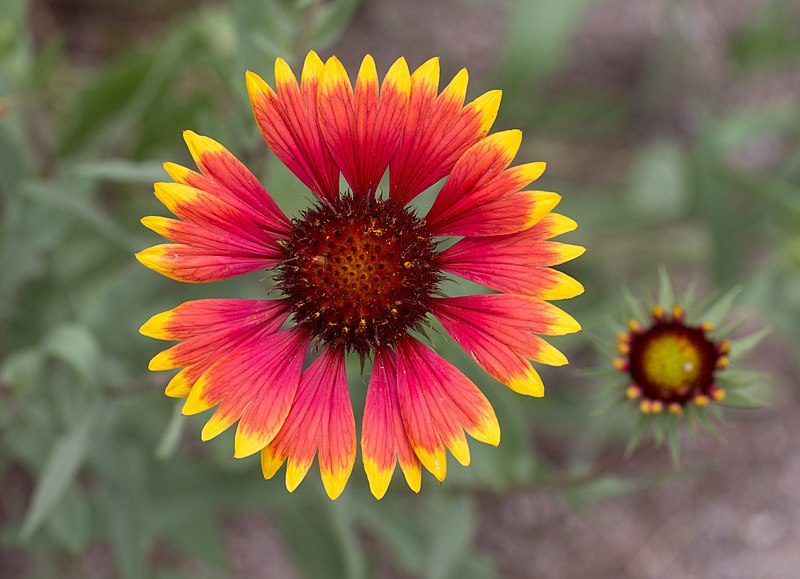 Blanket Flower
Blanket Flower aka Gaillardia  This is one of our favorites.  Not only is this big daisy-like flower gaudy but also very hardy, growing in dry and otherwise inhospitable conditions as well as in your pampered flower beds.  Although there are perennial gaillardias, this one is an annual although it readily reseeds but doesn't become invasive.  50 seeds per pack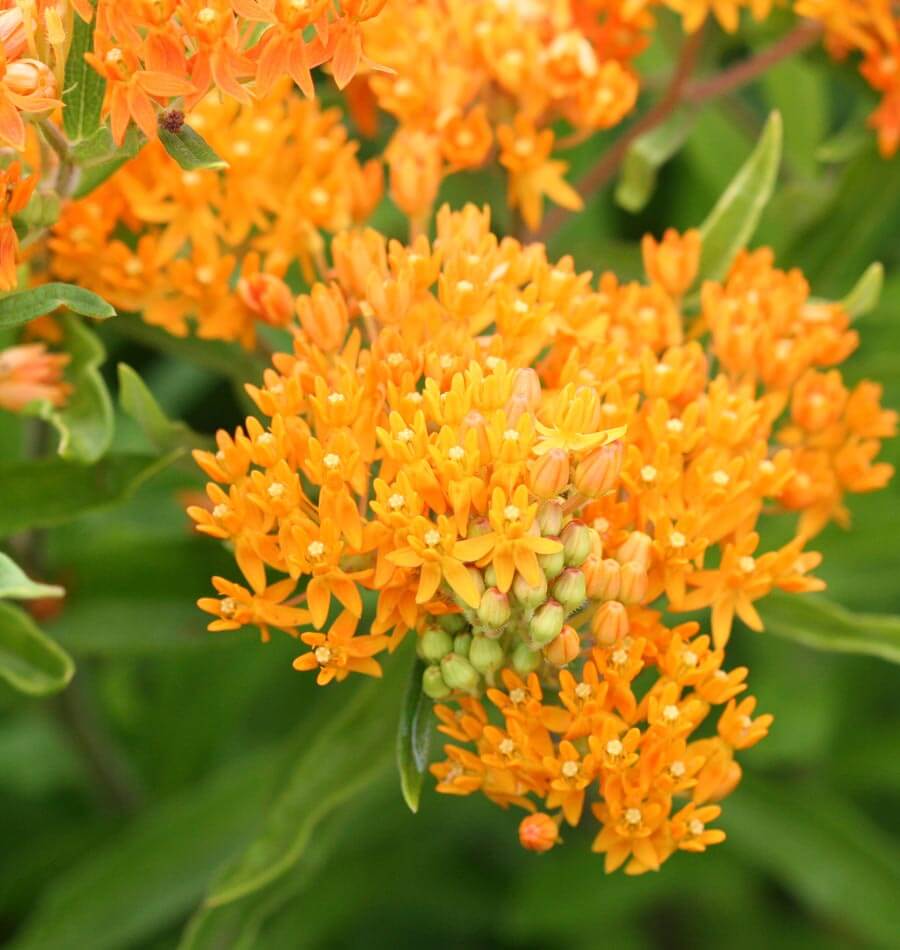 Butterfly Weed
Butterfly Weed   Four years ago I planted my first Butterfly Weed plants, which I'd started indoors, from seed.  And my oh my how happy those two foot high bushy plants with bright orange flowers all summer have made us!  They not only attract lots of different butterflies but entice the rare Monarch butterfly to lay their eggs on the plants.  Those eggs hatch out into pretty, large caterpillars, which, in turn, develop into more Monarch butterflies.  Before planting this lovely plant, I rarely saw Monarchs.  Now we see them nearly every day!  How exciting and easy to help them out.  Perennial  20 Seeds per pack.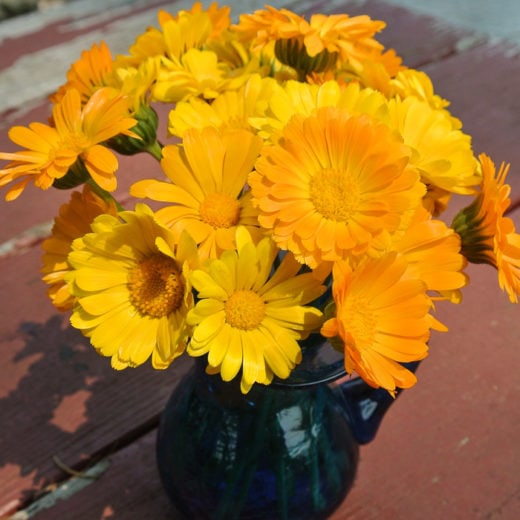 Calendula (Resina)  Also known as the Pot Marigold, these annual, daisy-like yellow flowers are widely known for both their hardiness and beauty, coupled with use in herbal medicine.  Will happily self seed without becoming invasive and is a great addition to your cottage garden.  50 seeds per pack
California Poppy
California Poppy Do you want a super easy annual for less than perfect growing areas that are too dry and sunny? The bright yellow gold California Poppy is the ticket for you. This annual is very easy to establish and self-seeds without becoming invasive. We love ours! About 200 seeds per pack.
Cosmos
Cosmos Here's one of my favorite annual flowers as it not only is very easy to grow but tall and beautiful daisy-like flowers in all colors from white to pinks and lavenders too. A bed of these will take your eye all summer. 4 feet tall About 100 seeds per pack.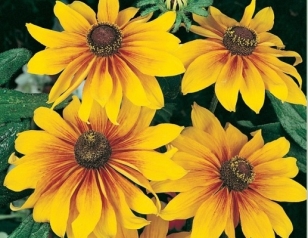 Gloriosa Daisy
Gloriosa Daisy Like me, do you love bright, tough annual flowers that are a no-fuss kind of bloom? These are large bloomed, yellows and orange daisy-like flowers that bloom well all late summer and fall. They also self-seed but never get out of bounds. About 20" tall. Roughly 50 seeds per pack.
LUPINE
Russell Lupines Mixed Colors
RUSSELL LUPINE  We love this lupine.  It differs from the regular wild lupine, which is a blue/purple flower seen growing in fields and ditches across much of the country, including up here in northern Minnesota.  The Russell Lupines are different colors, from light blue to lavender, pink and white.  You'll even find a red once in awhile!  It is a perennial, which will self seed so the bed will slowly grow throughout the years.  While you can start them indoors, they resist transplanting, so don't let the seedlings get too large in smaller pots.  They bloom in June to July in most climates.  25 seeds per pack
---
MORNING GLORY
Flying Saucers Morning Glory
Flying Saucers  Want an annual vine with lots of pretty flowers?  Flying Saucers provides large, striped blue and white flowers all up the tall vines which easily climb up poles, arbors and even dead trees.  No two are alike!  75 days  25 seeds per pack
Heavenly Blue Morning Glory
Heavenly Blue  I've grown these bright, sky blue, annual vining flowers for over 50 years and I'm sure my ancestors did too.  These vines will grow up to 20 feet or more in long-season climates.  In colder areas, they will reach 10 feet easily.  I've found way up here in the north, they do better and bloom earlier if I start the seeds inside 10 weeks before the last frost date.  80 days to bloom  25 seeds per pack.
Mountain Garland
Mountain Garland or Clarkia I grow lots of these annual beauties, which come in a wide variety of colors every year in my wild cottage garden. They are super easy and will reward you with 18" plants loaded with gorgeous blooms in white, pink, purple and rose all summer. About 100 seeds per pack.
PANSIES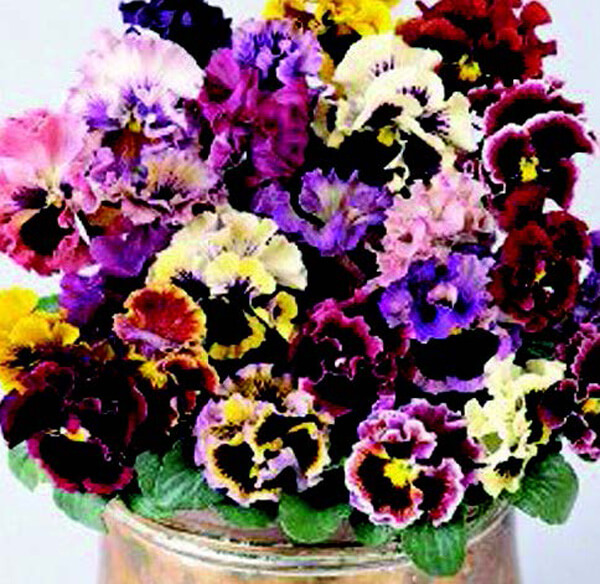 Sweet Ruffled Pansies
SWEET RUFFLED  When I first saw these pansies, I thought of French Can Can dancers!  Their skirts are frilly and very full, attracting instant interest in your garden.  They come in all colors and you'll just love these bright flowers. Annual but may overwinter or spread by self-seeding  25 seeds per pack
Swiss Giant Pansies
SWISS GIANT  We've grown Swiss Giants for over 60 years and both Mom and both of my grandmothers just loved them too.  These old heirloom pansies, with their bright, cheerful faces happily adorn the front of your flower beds, pots and planters all around your yard.  6″ plants  Annual but may overwinter or self-seed gently.  50 seeds per pack
Coneflower
Purple Coneflowers are loved by butterflies!
Purple Coneflower If you want a pretty flower that comes back every year, this perennial is a great one to plant. If you start the seeds early in the spring, indoors, they will bloom the first year, then not only come back every year thereafter but also reseed gently. They never get invasive but you'll love them popping up here and there in your flower bed as the big, lavender daisy-like blooms bring cheer to late summer and fall landscaping. Roughly 50 seeds per pack. Seeds germinate best after chilling in the refrigerator for several weeks before planting.
Corn Poppy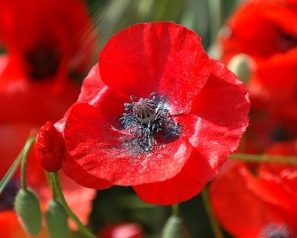 Red Corn Poppy
Red Corn Poppy I grow these among my orange California poppies for a knock-your-eyeballs out display.  These poppies are red, red, red, like the ones we buy to honor our Veterans. They grow happily all summer in your garden.  AND they are easy to grow and often self-seed too!  Why not plant a patch for the Veteran in your life?   About 200 seeds per pack
Spurred Snapdragon
Spurred Snapdragon
Spurred Snapdragon aka Linaria  Here's another of my favorites for a wild planting mix or cottage garden.  These petite plants do well in annual flower beds too.  They are a little less than two feet tall, having a stem of wonderfully colored tiny "snapdragon" blooms in all shades with lots of bi-colors.  As they are so beautiful, you'll like them in mass plantings as well as scattered throughout your cottage garden or wildflower bed.  They self-seed nicely without becoming unmannerly.  Very tough too, withstanding dry conditions.  About 200 seeds per pack.
Sweet Pea
Mammoth Mixed
Mammoth Mixed  We always love these bright, cheerful colors, climbing up our fences and trellises.  Sweet Peas are oh so easy to grow and will reward you nearly all summer, especially if it doesn't get too hot.  These fragrant flowers have long stems making them delightful in bouquets for the house.  Remember, though, the "peas" are NOT edible!
25 seeds per pack
Zinnia
           
Dahlia Flowered Zinnias
Zinnia, Dahlia Flowered Mix  Want a flashy, tough flower border that doesn't require lots of work?  Zinnias are it!  And these large double flowers in all colors of the rainbow are just great.  About 24″ tall, they sure make a bold statement wherever you put them.  And as they bloom quite early, they'll show off all summer and fall.  They are easy to save seeds from too for next year's beds.  About 50 seeds per pack.
Finnegan Farm Dwarf Sunflowers
Finnegan Farm Dwarf Sunflowers  These were the stars of my gardening friend, Dara's flower garden.  Here you have very large, bright sunflower heads which not only are beautiful but are so heavy with seed that they droop over and sometimes have to be staked up to hold them from toppling over!  And they are child friendly as they grow only about four feet tall, at their tallest; right at eye-level!  About 25 seeds per pack.