BOOKS BY JACKIE CLAY
GROWING AND CANNING YOUR OWN FOOD not only tells you how to can up hundreds of different foods safely and easily but it helps you learn to grow them too! You'll find that this book contains three times more recipes for you to can up than any other canning book out there. Fill your pantry with delicious, convenient to fix food that will last for years. If you've never canned before or if you've gotten away from it and want easy to follow instructions, here's the book for you. $25.00 and I'll autograph it if you'd like.
JACKIE CLAY'S PANTRY COOKBOOK contains dozens and dozens of easy to fix, delicious recipes that use only ingredients found in your pantry and garden. Many of these are heirloom recipes from days past when quick to fix, hearty meals were necessary. You'll love each and every single one of them as you discover exciting ways to use the food you've canned up and already have in your kitchen. $25.00 and I'll autograph it if you'd like.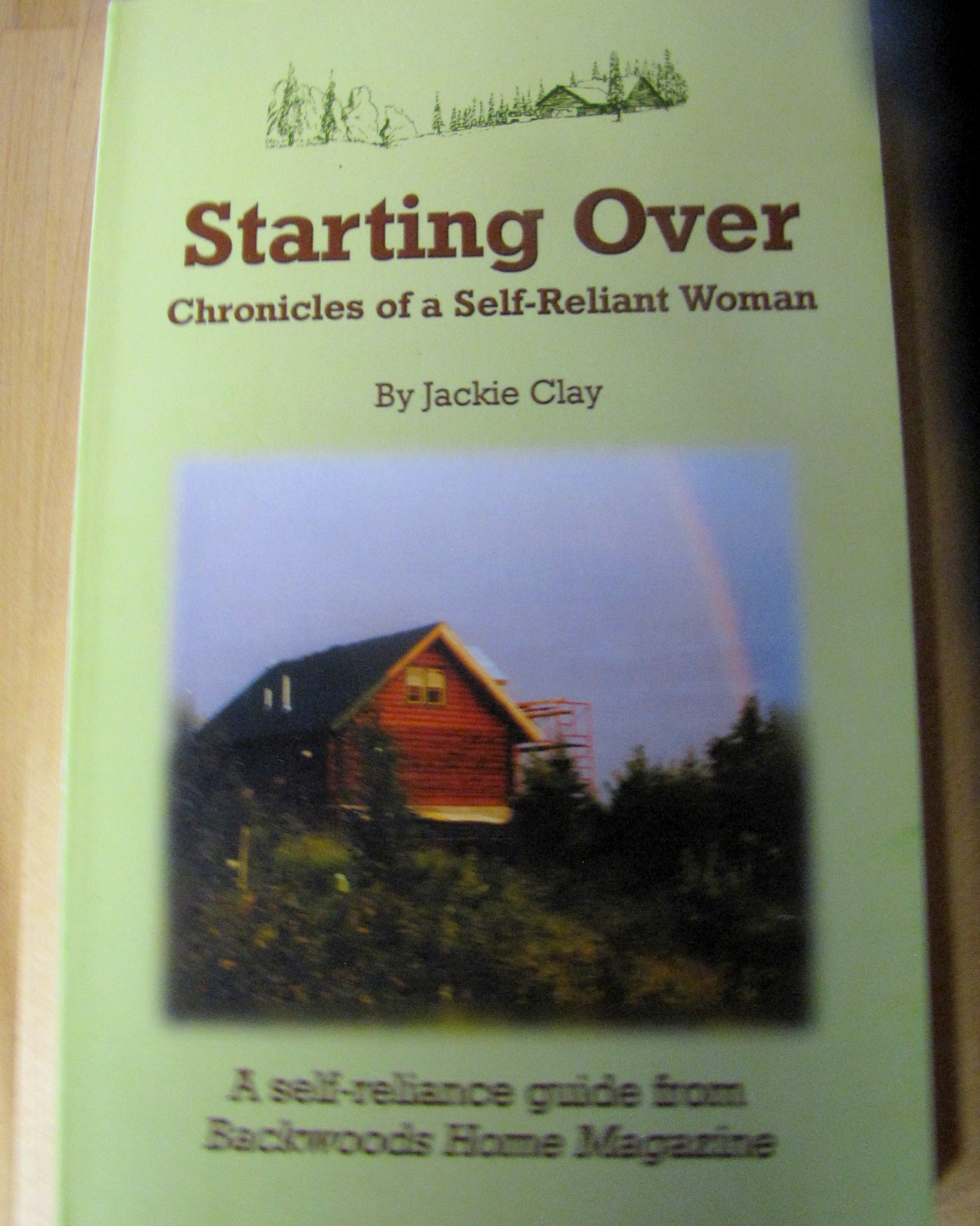 STARTING OVER tells the story of the beginnings of our new homestead here in Northern Minnesota. We moved onto raw, wild land in February of 2003 and started over, living in a travel trailer in the middle of the woods. You'll find this book inspiring and sometimes hard to believe; it may make you laugh or cry. But I guarantee you'll love it. $15.00 and I'll autograph it for you if you'd like.
HOMESTEADING SIMPLIFIED; Living the Good Life Without Losing Your Mind is a book for both new and life-long homesteaders. This book will help you along the whole path from finding land, building, gardening, stocking it with animals, handling your water system, fencing, tools that will help your life be easier and much, much more. It's well illustrated and will do much to help you avoid "homesteader burnout" and frustration. $20.00 and I'll autograph it if you'd like.   It's been reprinted and is available!
WESTERN NOVELS BY JACKIE CLAY
SUMMER OF THE EAGLES
For five long years they tried to break him but could not.
As he rides through the gates of the hellhole called the Wyoming Territorial Prison, Jess Hazzard's only desire is to get far away from people as fast as possible. Sitting atop the old, worn-out sorrel they gave him, he has only his meager gear, his guns, and his reputation.
Loathed for being half Apache, feared for his lightning-fast draw and deadly aim, and distrusted wherever he rides, he heads for the mountains to rest his soul and avoid the trouble that has dogged him his whole life. Little does he know his horse and a wounded man will soon set him on a new trail, one that will force him to question his beliefs, and survive being shot, beaten, blinded, and more as life challenges him in ways he never imagined possible.
Summer of the Eagles is a story of perseverance, and stamina; of a man determined to overcome his past and make his dream of a future a reality. $14.00
After a lifetime of pain and struggle, Jess Hazzard finally hung up his gun, buried his demons, and found happiness in the mountains of west Wyoming with his beloved wife, Julie, their daughter, and her young son from a previous marriage.
Life was good until the day he returned home to find the love of his life brutally beaten and raped, and their son, Keith, kidnapped.
Now Jess must master his rage and strap on the Frontier Colt he long prayed he would never again have to wear, to pursue a ruthless madman and his vicious gunmen, save their son, and avenge Julie's violation. $14.
On a brutally cold winter day, Jess Hazzard discovers a young man lying unconscious and nearly frozen to death in the snow. He takes him home and works to save his life, not knowing he has been searching for Jess.
Years earlier, Jess put a bullet in the man's father. He lived, but forever blamed Jess for his family's dismal poverty. Following the death of his beloved mother, the man set out seeking revenge against the gunfighter he believed responsible for everything bad that happened to him and his family.
Now that he's found him, will he follow through with his plan for vengeance against the man who just saved his life? $14.
After years of living by the gun and striving to overcome his reputation as a half-breed gunman, Jess Hazzard finally found peace, married, raised a family and turned an abandoned remote mountain homestead into a thriving ranch. Now it is all threatened by a greedy big rancher who wants all the land in the Wind Rivers himself. Determined to get it by any means, once again gunsmoke and death enter the peaceful valley. $14
I'll be happy to autograph any of these books for you. (They'll make appreciated gifts too!)
Non priority shipping cost on books is $4.95 for one book or $7.95 for two or more.
Our address is: Seed Treasures, 8533 Hwy 25, Angora, MN 55703
You can make checks or money orders out to Jackie & Will Atkinson . We do accept cash but advise against it for your safety. Thank you.