CHECK OUR OUR NEW 2017 SEMINAR, BELOW!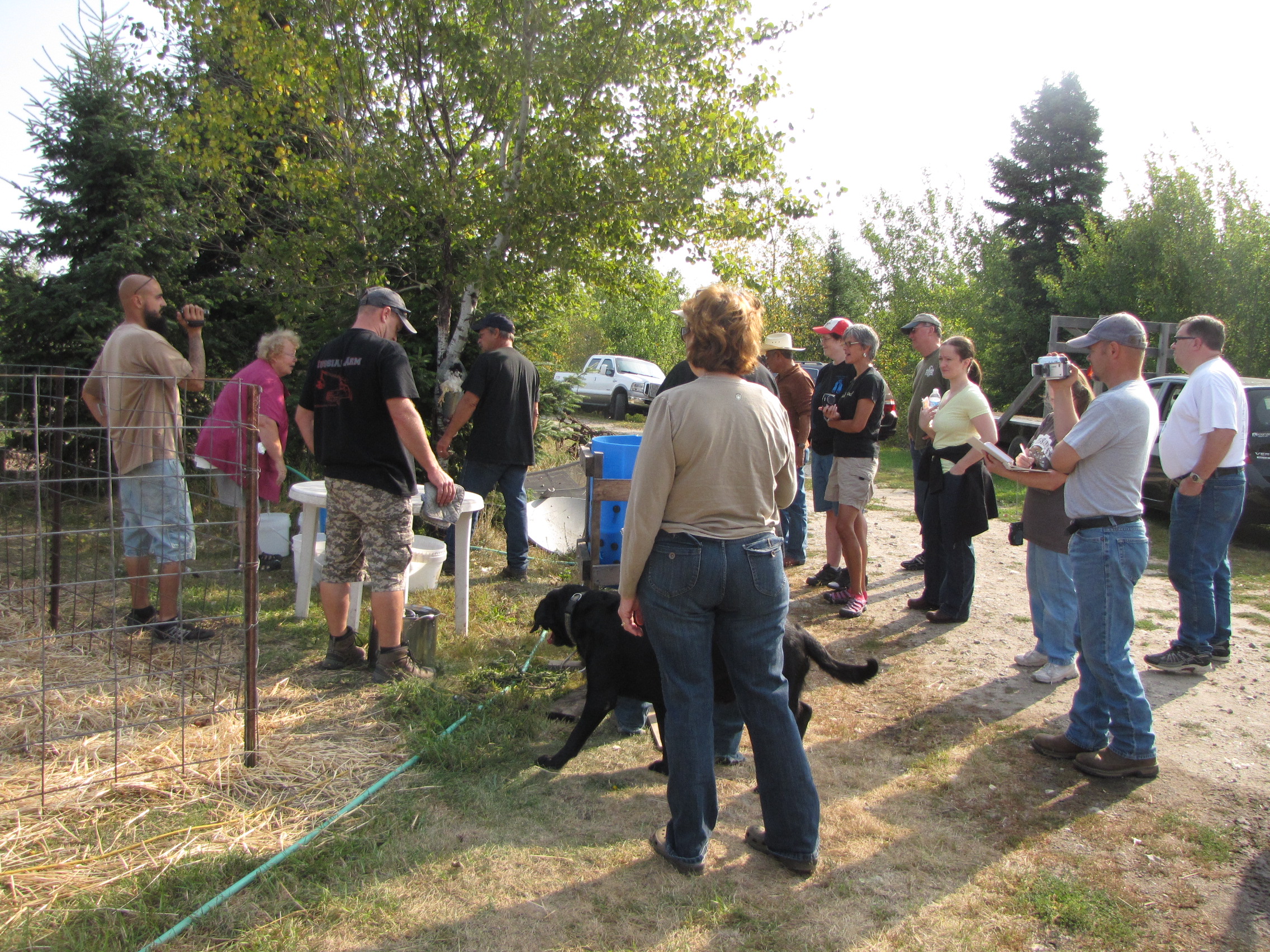 HOMESTEADING SEMINARS OFFERED AT WILL AND JACKIE'S NORTHERN MINNESOTA HOMESTEAD
Folks from Alaska to Florida learn to butcher chickens
Jackie travels all over the country giving workshops on gardening, growing fruit trees, raising chickens and livestock, canning and food preservation, but in 2013 we decided to invite people here for a more extended learning experience and see how we do things first hand.
Every year we offer seminars where folks can come from all over the country to participate in hands-on workshops over a three day weekend.  Some popular workshops have included canning, seed saving, building, self-reliant living on a shoe string, cheesemaking, long-term food storage, butchering chickens, raising livestock and helpful homestead tools.
Here's a cheesemaking workshop
We offer camping spots for tents and RVs right on our land or you can stay in any of the lodges or motels in the area.  Offering a huge homemade lunch every day plus a weenie roast on Saturday nights, you'll never leave hungry!!
Cost for the entire intense three days runs $400 per person or $350 per person if two or more people come together with $100 in advance to lock in your slot. These seminars may well change your life!  We only accept about 15 people so that everyone gets a very personal experience.  Included is one of Jackie's books, autographed if you'd like…and a big meal each of the three days.
A workshop in slipform rock and concrete
*********************************************
!!!!!!!!!!!!!!!!!!!!!!!!!!!!!!!!!!!!!!!!!!!!!!!!!!!!!!!!!!!!!!!!
ANNOUNCING OUR 2017 HOMESTEADING SEMINAR
Will and I have decided to host a new homesteading seminar this fall, August 25th, 26th and 27th.
Come to our Northern Minnesota homestead for three intensive days and not only visit and explore our 120 acre wild woods retreat but participate in a fun, exciting learning experience. Covered in this second seminar will be these important skills:
Harvesting and saving seeds from heirloom vegetables
Canning vegetables using a pressure canner
Canning meat and meals in a jar using a pressure canner
Homestead tools
Fencing
Raising homestead meat.
Cheesemaking
Self-reliant living on a shoestring; including solar & choosing a stand-by generator.
This will be a hands-on experience right in our gardens, livestock pens and kitchen.
In addition there will be ample time for questions during and after each workshop, a guided tour of the homestead by us, explaining how and what we are doing to increase their self-sufficiency on a limited budget. It's a seminar like no other. It's limited to only 15 people to give everyone a chance to participate fully.
This weekend may well change your life!
Fee

: $400 per person or $350 each for two or more people coming together. There is a $100 deposit required to reserve your spot in this seminar. There will be no refunds of the deposit, should you have to cancel.
Included in the seminar fee are: One great homestead feast a day, featuring most foods grown right on the homestead, a copy of one of Jackie's latest books such as GROWING AND CANNING YOUR OWN FOOD or JACKIE CLAY'S PANTRY COOKBOOK OR HOMESTEADING SIMPLIFIED, autographed if you'd like, plus a Saturday night bonfire. (Toast marshmallows and weenies with us and visit with new homesteading friends.)
There are several pretty but primitive camping sites in the pines on the homestead, having room for a tent or modest sized travel trailer or RV. Toilet facilities will be provided. Come listen to the wolves howl and see birds and wildlife right here. (We have no venomous snakes and the wildlife won't bother you!) Campsite fee: $25 per night, per vehicle. If you want more civilized accommodations, motels are about 25 minutes away.
No alcohol. No pets.
Come spend your vacation here in Northern Minnesota and attend the seminar too! We can also point you to dozens of wilderness lakes, great fishing, a black bear sanctuary, a wolf center or canoe the famous
Boundary Waters Canoe Area Wilderness. It's a beautiful, wild place
CONTACT INFORMATION TO RESERVE YOUR SPOT: 
jackieclay2007@yahoo.com