2017
SEED TREASURES
       Heirloom and Open Pollinated Seeds
      Our seeds are all priced at $2.50 per package.
 
We can only accept mail orders at present.  Shipping is $4.00 an order, regardless of the how many you order. (Due to increases in Postal Charges, we were forced to raise our shipping charge.)  

As postage to Canada is much higher, we will ship to Canada but need an extra $6 to cover postage.  This would be $10 shipping to Canada.

 Note:  Everyone who ordered from us in 2016 will receive a new 2017 catalog!  
Harvest on our homestead!
 All of our seed is open pollinated, most raised right here on our homestead in Northern Minnesota so you know it's hardy! No hybrids, so you can save your own seed.   Absolutely NO GMO'S!!!
Will harvesting rare Hopi Pale Grey squash from our main garden.
JUST A NOTE; WE ARE LICENSED BY THE MN DEPT OF AGRICULTURE TO SELL SEEDS!
WE ARE HAPPY TO ANNOUNCE THAT WE HAVE SIGNED THE SAFE SEED PLEDGE!
   Some of our ripe tomatoes, ready to have seeds extracted….by hand.
Our address is:
SEED TREASURES, 8533 Hwy 25, Angora, MN  55703
As we are a small homestead seed business, having limited seeds that we have saved, when we run out we'll substitute a similar variety or another of our favorite vegetables.  Or you can request a substitution in case we need one. We will quickly indicate on our website that we've run out of a certain variety.
Photos:  Top left to  right:  One of our Bill Bean tomatoes, a pretty Old German tomato, beautiful Box Car Willies, lower left:  a load of Winter Luxury pumpkins, Hopi Pale Grey and Canada Crookneck squash fresh from the field at our homestead,  an armload of Glacier tomatoes ready to can up, and giant Kuroda carrots!
 SEED LISTING
Provider green beans
BEANS  about 1 1/2 oz per pack unless otherwise noted
Seed saving tips:  Allow your beans to dry in the pod until the pods are tan and dry or at least leathery.  Shell the mature, dry seeds out into a shallow bowl and allow to dry well, stirring the seeds daily to ensure they all dry sufficiently for storage.
Appaloosa is a great smaller bush bean from New England, given to settlers by Native tribes in the area. It cooks down tender and smooth in shorter time than many beans. The color is pretty, being a white bean with one end splashed with a combination of browns, maroon and black, looking like the rump of an Appaloosa horse. You'll love this one! 80 days dry

Black Manitoba  This is our gardening friend, Dara's, favorite dry bean and she grows lots.  This bush bean is hugely productive and much earlier than its look-alike Black Turtle.  These round, shiny black beans are stunning!  Great in any recipe you'd like to add black beans as they are very sweet and tasty.  90 days to dry and you can also eat as snaps earlier.  Limited supply  11/2 oz packet
Calypso aka Orca  Here's a knock-your-socks-off pretty black and white dry bean.  It's fat and shiny, very productive and great in soups or baked recipes.  I know you'll like it too!  85 days to dry.
Cherokee Trail of Tears  With our family's Native American heritage, we love old, traditional crops and this multi-purpose pole bean is no exception.  Carried on the tragic forced march to Oklahoma where many Cherokee died along the way, women carried this beloved bean, sewn to the hems of their dresses.  It is a wonderful purple tinged snap bean with very distinctive sweet, beany flavor.  Then as it matures, it dries down to a shining black bean that is great in any recipe.  One of my favorites.  70 day green snap  90 days dry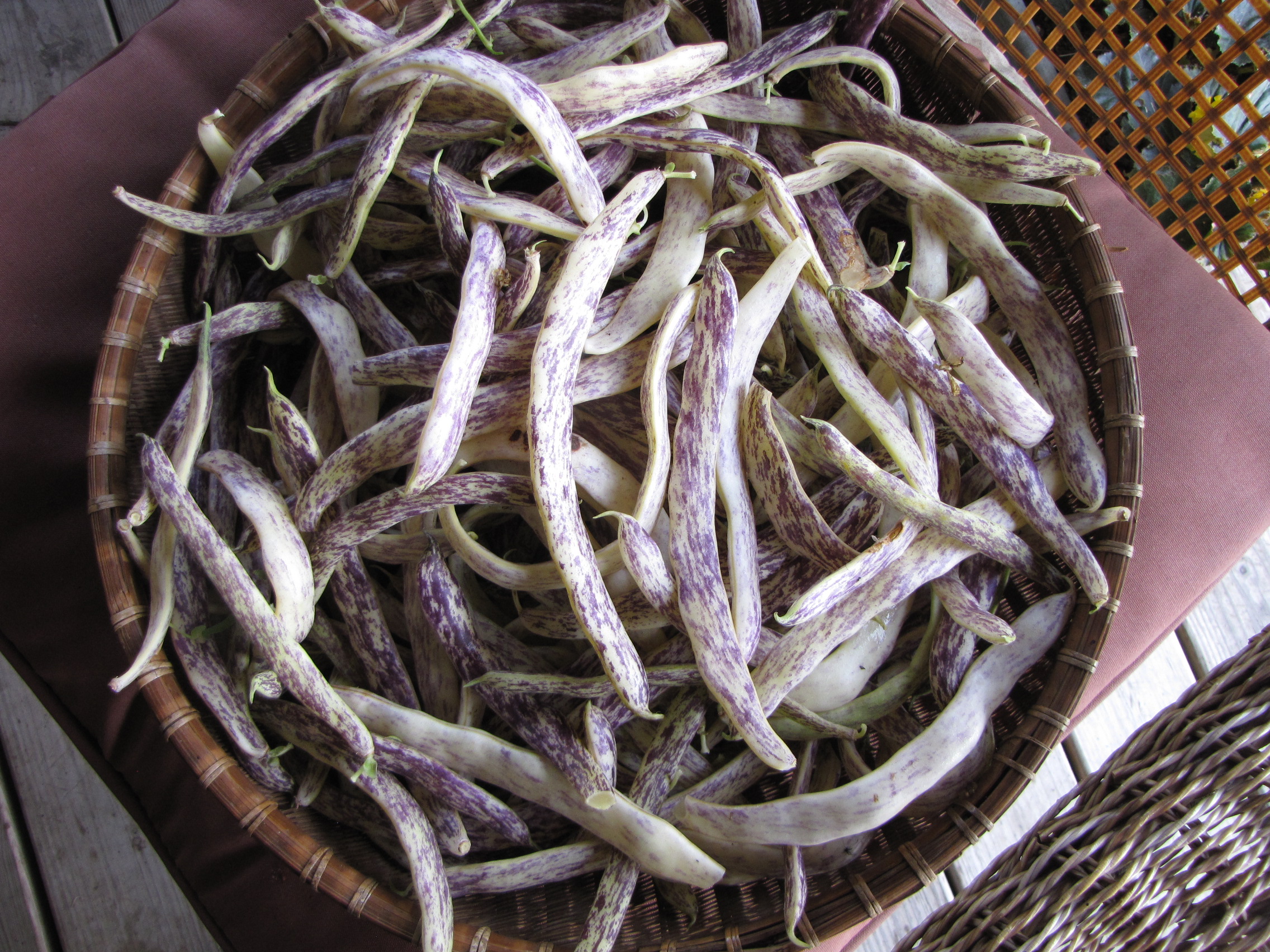 Dragon Tongue bush beans are simply wonderful!
Dragon Tongue  If you want a big, tender, juicy flat, meaty bush bean, this is the one for you!  Dragon Tongue is a yellow bean with purple stripes (they fade away when blanched, cooked or canned).  The taste is great and they are very productive.  60 days
Dapple Gray Do you love pretty beans?  Dapple Gray is just that, being an unusual grey and white spotted dry bean that is quite productive.  This is a tasty bush bean you'll just love.  We have a limited supply this year.  90 days to dry  1 oz packet
Good Mother Stallard
Good Mother Stallard  Want a pretty dry bean that tastes great and is very productive?  This is the bean for you!  A wonderful pole bean which was originally introduced by Glenn Drowns of Sand Hills Preservation Center, you'll find early drying, shiny round beans no matter where you live.  About 85 days to dry.  1 1/2 oz pack
Jacob's Cattle Bean aka Anasazi, not to be confused with New Mexico Cave bean which has a similar appearance of reddish brown and white spots.  Jacob's Cattle is a bush bean where New Mexico Cave is a pole bean.  But this bean is not only beautiful but extremely useful and tasty especially as a baked bean or soup bean, earning it great praise in New England.  85 day to dry  bush bean
Kentucky Blue Bloom  We were gifted this Kentucky heirloom bean last year and grew out a few rows this year to try them.  And boy were they productive!  They covered the bushes with nice fat green beans and went on to make lots of great speckled red, purple and white bean seed.  The seeds are fairly slender and refined.  Limited supply  1 oz packet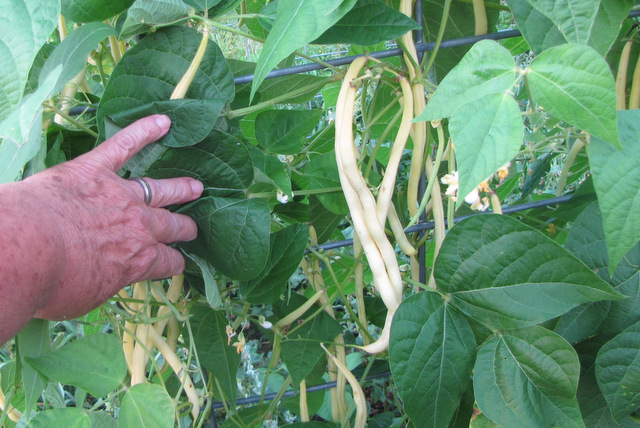 Monte Gusto
Monte Gusto  Want an absolutely gorgeous yellow wax pole bean?  How about these wonderful, slender, very long beauties?  Pods are over 8″ long and pencil thin for weeks.  And they're both very tasty and hugely productive too.  We just were knocked out of our socks with these new beans this year!  60 days to snap beans 1 1/2 oz packet
Provider  This is our all-time favorite green snap bean.  As it's name indicates, Provider really puts out the beans all summer long!  I plant them in double rows about a foot apart and the plants support each other.  Provider's taste is excellent and every summer I can up all we want and save seed too!  55 days Pack contains about 2 oz.
Scarlet Runner  I've grown Scarlet Runner beans for years.  Not only are the lusty, tall vines covered with red flowers which bees and other pollinators love but the bean pods really impress kids and adults alike, being over 8″ long and fat too.  And the seeds!  They are stunning lavender and black spotted and can pass for beads.  1 1/2 oz packet
Yellow Indian Woman  For a dry bean, you can't beat Indian Woman Yellow, an old Native American bean from the West.  It is a smallish round bean that is quick to cook.  It has excellent bean taste and is very hardy.  The history is vague.  It's thought to be either a dry bean brought to Montana by Swedish immigrants and then shared with Native Peoples or else an old Native bean shared with the Swedish immigrants.  Either way, it's a great bean for homesteaders.  It is a bush to half-runner bean.  85 days to dry.
BEET  About 200 seeds per pack
Detroit Dark Red  Mom's very favorite beet for canning.  And it's ours, too, as it is so easy to grow and so nice dark red.  The greens are excellent when picked for salads or eaten with baby beets.  Early, they can be used from 45 days as baby greens/beets or let mature another few weeks.  55 days
Chioggia  Here's a gorgeous salad beet!  Concentric circles of white and pink,  Slice horizontally for a different presentation,  They are also great to steam or boil; very sweet.  60 days
BROCCOLI  about 30 seeds per pack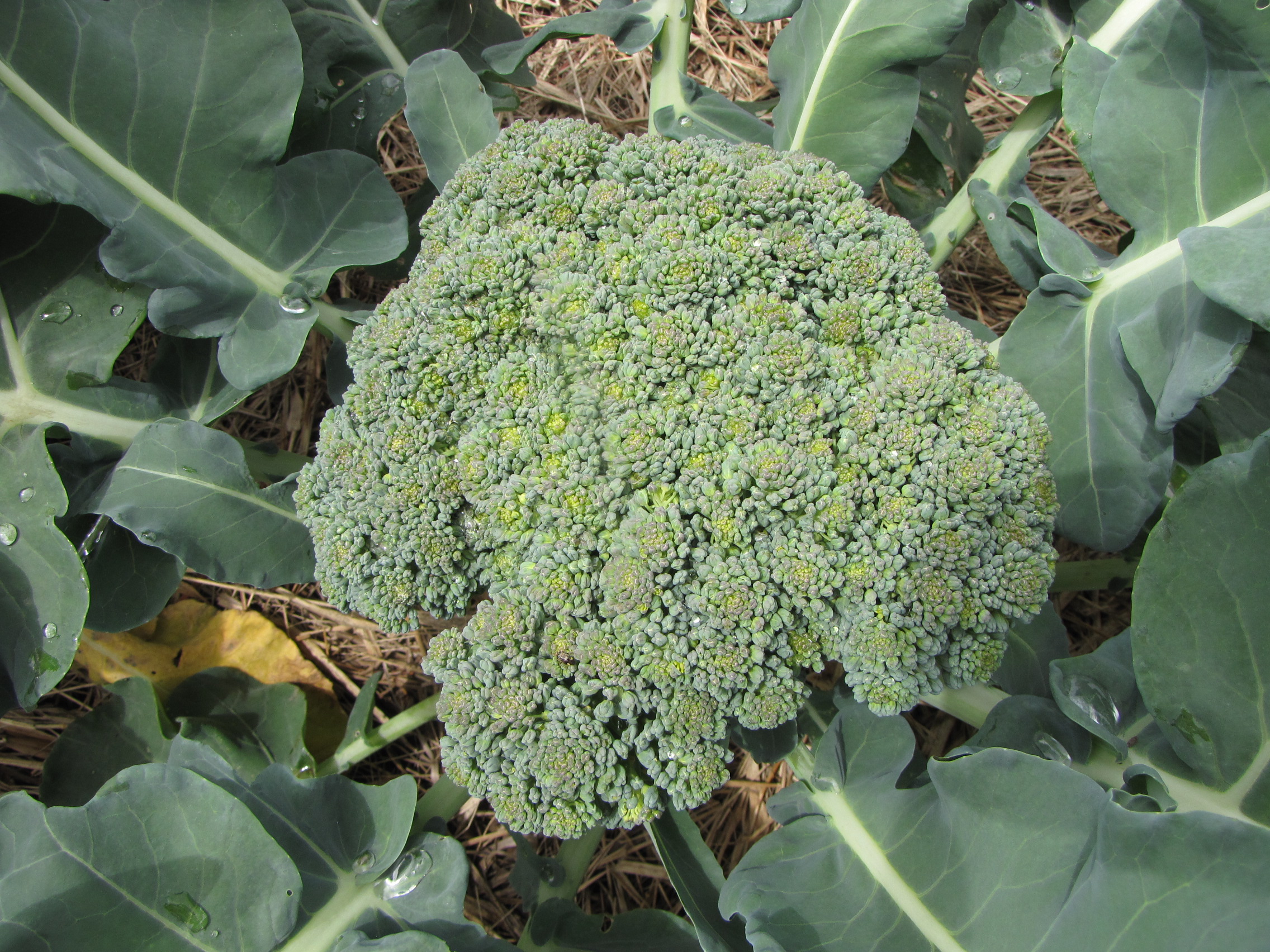 Goliath broccoli
Goliath  As far as all-season broccoli goes, this one can't be beaten for an open pollinated variety.  It will give you about an eight inch in diameter center head and once cut, it will produce numerous side shoots until after it freezes.  66 days.
CABBAGE  about 30 seeds per pack
Late Flat Dutch  This is a late maturing cabbage, perfect for winter storage, canning or making sauerkraut.  Ours have been weighing about 10-15 pounds of sweet, tender, tightly wrapped heads.  100 days.
Danish Ballhead
Danish Ballhead  You'll love this solid-packed 5-7 pound cabbage.  It's great for any uses and stores very well.  One of our dependable favorites!  95 days.
Savoy Perfection
Savoy Perfection  This is the cabbage that always draws attention in our garden.  Its pretty crinkled leaves are so gorgeous.  And the taste is just as luscious, being sweet and crisp.  It stores quite well too.  100 days
CARROTS  about 500 seeds per pack
Imperator If you have good loose soil, this is the carrot for you! Imperator was the ancestor of the modern hybrid carrots like you buy in the store. They are long and quite thin. Carrots of over 12" are common so you get a lot of eating per carrot. And they are sweet and crisp too. 68 days.
Kuroda  This Japanese carrot has become one of our stand-bys.  Not only is it very flavorful but it handles less than perfect soil and growing conditions just fine.  AND it is a large carrot, often weighing a pound or so, yet not getting tough or woody.  67 days or longer for very large, prizewinning carrots.
One of our "little" Scarlet Nantes Carrots
Scarlet Nantes
Scarlet Nantes  Carrots don't get better than this old heirloom favorite.  Mature carrots are about seven inches long and finger shaped with a blunt tip.  They are very sweet and crisp as well as being uniform and easy to grow.  66 days
Tristan wonders if you know where Superman gets his powers?
CAULIFLOWER  about 30 seeds per package.
Amazing  Very tight 10″ heads which are self-blanched to protect the color.  This is a hardy variety, not bothered by heat or cool weather.  We love it!  68 days
White Flag Self-Blanching
We never seemed to get around to tying the leaves over the developing heads of cauliflower and ended up with yellowish heads, instead of pure white. This old variety takes care of that chore for us. Not only is it a great tasting variety but it grows so that the leaves mostly cover the heads leaving them nice and white. It likes cooler weather and matures in about 75-80 days.
CORN  about 2 0z per pack
Painted Mountain 2 oz per pack.  If you're looking for a pretty "Indian" corn to display or grind into cornmeal that is also early, this is the one for you!  Even with our wet, short, cool summer, we harvested lots of mature Painted Mountain and enjoyed husking cobs to discover simply gorgeous color combinations! It averages 8-12 rows of multi-colored flint kernels on 7-8″ cobs.  85 days to dry, mature corn.
Bear Island Chippewa ancient corn from Northern Minnesota.
Bear Island Chippewa 2 oz per pack.  This very old, extremely rare Native flint, flour corn from Northern Minnesota is simply wonderful!  It is colored much like Painted Mountain but runs a bit more to the gold, bronzes and reds.  Also, the cobs and kernels are larger.  8-10 rows of large, fat kernels.  It makes very good cornmeal with a sweet flavor.  Best of all, it's early and hardy.  80 days to mature, dry corn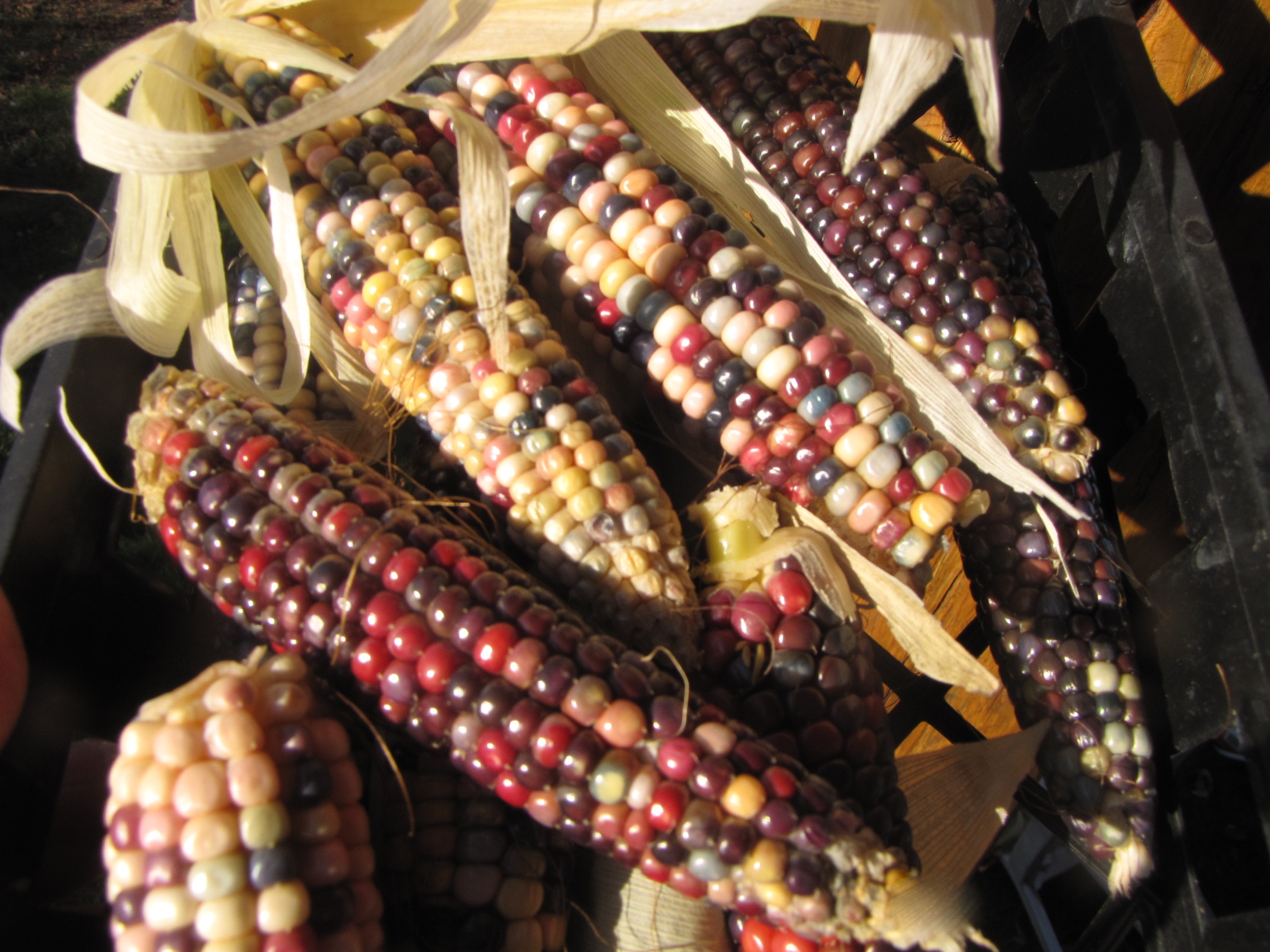 Glass Gem popcorn  We read the raves of this gorgeous Cherokee-bred corn on the internet and in Farm Show Magazine and decided to try it.  WOW.  The plants are 9′-10′ tall and stool out with six or so tillers so you end up with a jungle of a plant.  And most tillers produce ears too.  We harvested an average of four ears per plant of 5″-6″ cobs of tiny-seeded corn.  But wait!  That corn comes in such a variety of colors you seldom see in "Indian" corn; pink, lavender, purple, mauve.  And the kernels are glistening colors like little pearls.  Very nice.  And you can pop it.  (No the typically white fluff of the popcorn isn't colored in Glass Gem; just the hulls.) Or you can grind it into cornmeal if you wish.  1 oz (as the seeds are small)  100-110 days.
Seneca Round Nose
Seneca Round Nose  We really like this old, Native corn from the Seneca tribe.  The cobs are big and fat with 8-10 rows of large kernels of white corn, sometimes tinged with red like you smeared lipstick over them.  The plants are very well rooted, tall and sturdy.  It's good for roasting ears if you pick it in the milk stage but like other old-timey corns it does quickly get tough so be on your toes.  This corn can also be used for cornmeal.  9″ ears  90 days.
 Seneca Sunrise
Seneca Sunrise  This is a sweet corn developed by Will after years of breeding.  It is sweet, has fat 81/2″ cobs with 14-16 (or more) rows.  A great mid-season corn that will even dry down in the field here in Northern Minnesota.  This dry corn not only makes great seed for next year but grinds very nicely for nutty, sweet cornmeal.  As there is absolutely no corn grown within miles of us, you can be sure it has not been contaminated by GMO corn pollen blowing in the wind.  67 days
Yukon Supreme
Yukon Supreme  If you need an early corn, this is the one for you!  It came in about five days before Seneca Sunrise although it was not as sweet and flavorful in our opinions.  But it did make nice six inch cobs, two or more per stalk full of nice yellow, corn flavored sweet kernels.  There is some variation as it is not quite stabilized and a few cobs will have bi-colored kernels.  But as far as we know, it's the earliest corn out there worth eating.  62 days or less.  2 oz packet
CUCUMBERS about 100 seeds
Homemade Pickles  An old favorite, Homemade Pickles, is an early pickler that produces waves of nice, solid, sweet pickling cukes that also grow larger for slicers.  I make tons of dills and bread and butter pickles with these great, productive cukes.  53 days
Suyo Long  This long, bumpy, ridged burpless cuke is just right for salads or making bread and butter pickles.  If you trellis it like we do, you'll have nice, straight cucumbers.  If not, they will twist and turn in an interesting way.  60 days
KALE
Lacinato or Dinosaur  We love this mild, rich-flavored, bumpy strap leaf, Italian kale that looks like miniature palm trees in your garden or flower beds.  It's great in salads when young or as greens as it gets bigger.  The leaves are better than 10″ long and 3″ wide and the plant is about 30″ tall.  about 50 seeds per pack.  45 days to salad greens or 55 to mature size.
Red Russian  We fell in love with this pretty kale.  Not only is it pretty and ruffled magnificently but the red of the stems increases onto the leaves as fall's cool weather hits.  Not only beautiful and nutritious but this heritage kale tastes great too!  Try baby leaves in salads.  40 days to baby leaves and 60 days to mature leaves
LETTUCE
Crisphead  If you've always wanted to grow head lettuce in your own garden, this is the one for you!  It's an old timer and you know it both tastes good and performs well even in warm weather, forming sweet, crisp heads on only 60 days
Dark Red Lollo Rosso
Dark Red Lollo Rosso  This lettuce has it all; it's gorgeous, outrageously frilly, sweet, tender AND pretty darned hardy.  You can cut baby leaves at 30 days or wait to harvest a mature head in about 50 days.  What a showgirl!
Paris Island Romaine
Paris Island Romaine  Do you want nice, loose heads with hearts that are as sweet and crisp as possible?  How about a beautiful light green to pair perfectly with mixed salad greens?  And then there's this open pollinated lettuce's hardiness.  Sound good?  We think so!  Baby leaves in 30 days and heads in 50 days
MUSKMELON
Sweet Granite  Here in Northern Minnesota, we're muskmelon-challenged.  While we have no trouble growing a 100 day squash, direct seeded in the garden, muskmelons refuse to ripen.  Fortunately, not so with Sweet Granite.  This 3 pound, kind of oblong, netted melon ripens outside without being on black plastic.  And it is drooling sweet, too!  Did I mention it's early?  70 days
ONIONS  about 100 seeds per pack  Note:  Onion seeds only remain good for a year.  If you wish to hold them longer, please store them in a moisture-proof container, in the freezer.
Ailsa Craig  Here's a giant of an onion!  They sometimes reach 3 pounds or more.  And boy do we love them!  They're mild and sweet.  Perfect for onion rings and in salads or on a burger.  They are white with a golden skin.  About 110 days from seed. It will store for about 2 months, then start to soften so use them up early on.
Clear Dawn If you loved the hybrid, Copra, you'll love this open pollinated version.  Clear Dawn is THE best storage onion, staying solid until well into spring.  It is medium sized, blocky and very solid with mild, sweet, white flesh.  About 1o4 days from seed.
Walla Walla Sweet Spanish  This is the big, sweet onion that made Walla Walla, Washington famous for its onions!  Such big, juicy, sweet onions with glistening white flesh.  It is a long-day onion, doing best grown in the midwest, northward.  About 125 days from seed.  Unfortunately, it does not store well.
PEAS about 1 1/2 oz per pack
Green Arrow  A popular English pea grown in the U.S. for generations.  High yielding 30 inch vines produce extra long pods that contain 8-11 sweet, juicy, tender peas.  Great for fresh eating, dehydrating and canning.  70 days
Mammoth Melting Sugar Pea
Mammoth Melting Sugar Pea We grow this climber on a trellis in our house garden each year so we have quick access to its wonderful sweet pods to snack on and pick for stir fries and salads. Very productive!! They freeze well for winter use, too. 55 days. Pick before peas bulk up in pods.
PEPPERS  about 20 seeds per pack  Note:  Peppers will often cross if more than one variety is grown. Save your seeds from completely mature (usually red, sometimes orange or other color) peppers.  Just pick and dry on a plastic plate.
Here's a sample of the peppers we grow.
King of the North one of our favorite open pollinated sweet bells.  It's large, thick walled and quite early and sturdy growing.  It ripens from green to red, being useable at all stages but sweeter when red.  68 days to green and about 80 to red
Lipstick  A great Italian frying pepper that we love in salads and for sweet pepper pickles.  No heat.  Very productive.  Sweet, mild taste with plenty of crunch raw.  53 days to green mature and about 73 to red.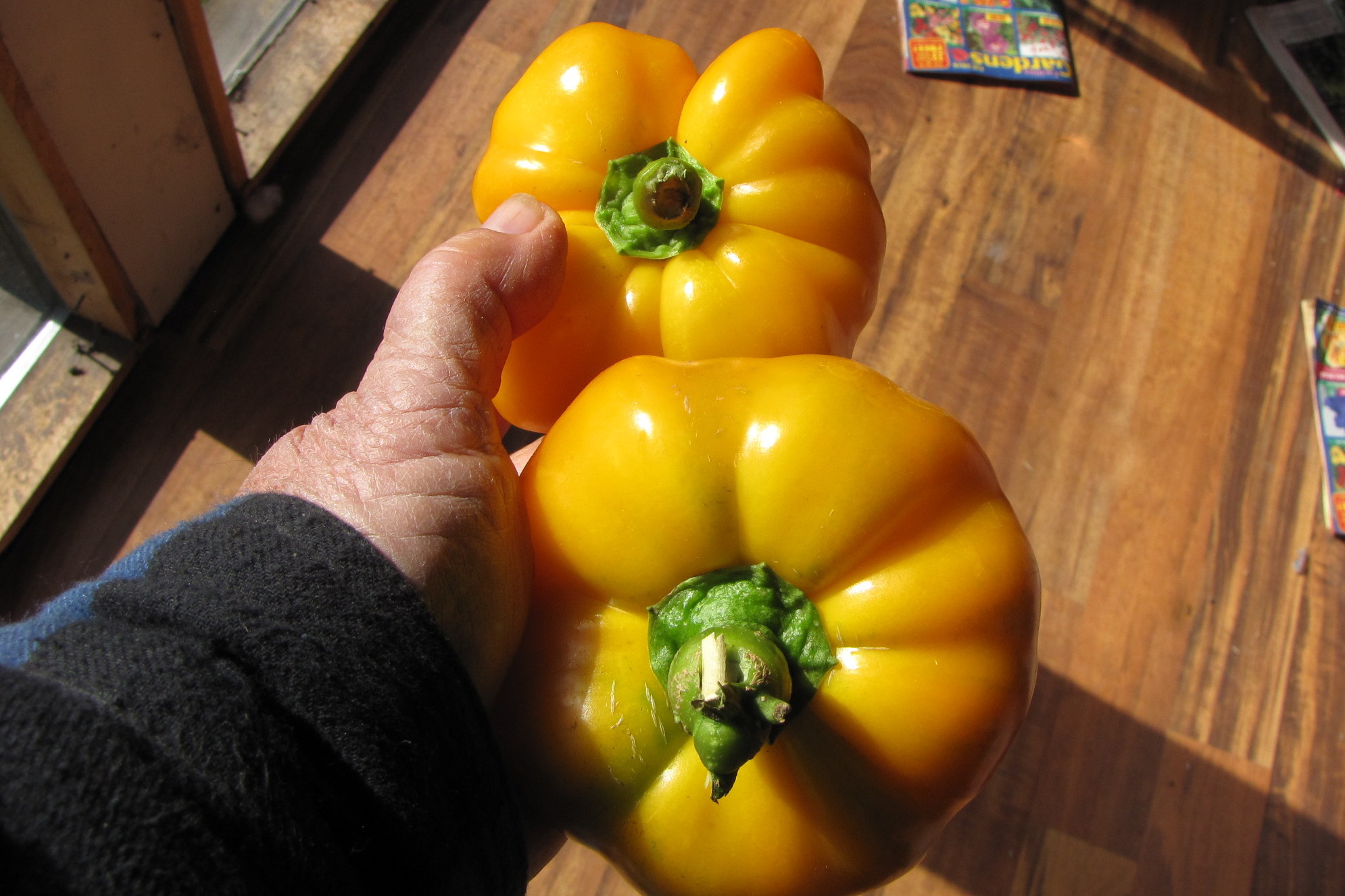 Paradicsom Alaku Sarga Szentes
Paradicsom Alaku Sarga Szentes  Okay, I'll admit this wonderful Hungarian pepper has a tough on the tongue name, being bred in Szentes, Hungary.  But this is a simply wonderful pepper!  It is not only a bright, shining yellow, tomato-shaped pepper but is super tasty, having thick walls and juicy texture.  Very sweet!  75 days Limited supply this year.  10 seeds per pack.
Hungarian Wax aka Hot Banana  This is Will's favorite hot pepper for pickled pepper rings.  You can also slice and fry it if you like it hot.  Very productive and quite early for us.  About 67 days to yellowish green and 84 for red.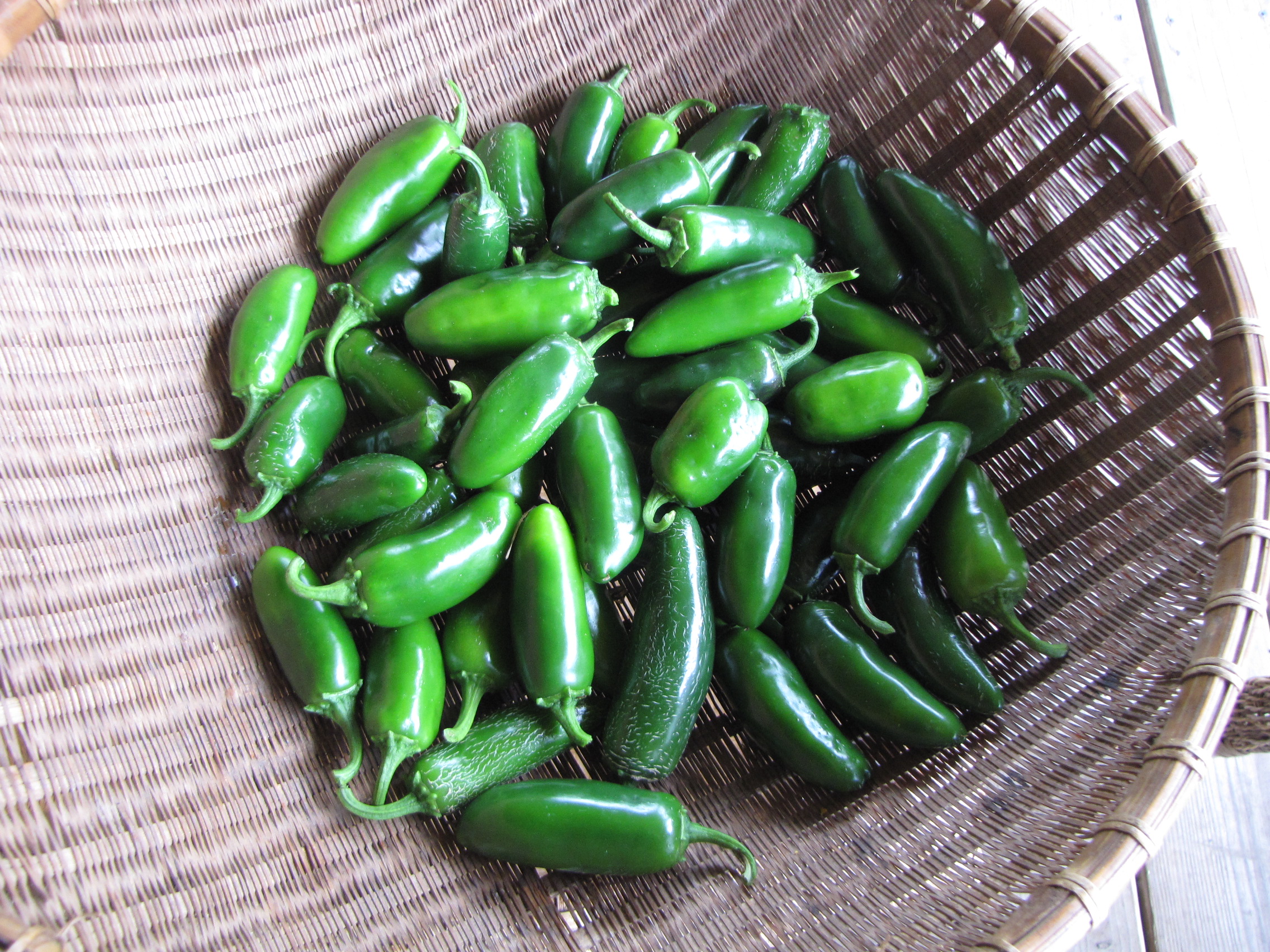 Early Jalapeno
Early Jalapeno   We love our Jalapenos but especially love the Early Jalapenos as they are about 15 days earlier!  They are really productive, fat and hot too.  Dark green, ripening to red.  About 60 days to green and 75 to red.  (No they aren't hotter when red, just prettier.)
Mt. Etna was bred by Glenn Drowns at Sand Hill Preservation Center and is a hugely productive smaller plant with Italian-type wedge shaped sweet peppers which turn bright red early in the season.  We just love it!  Limited supply 2017  10 seeds per pack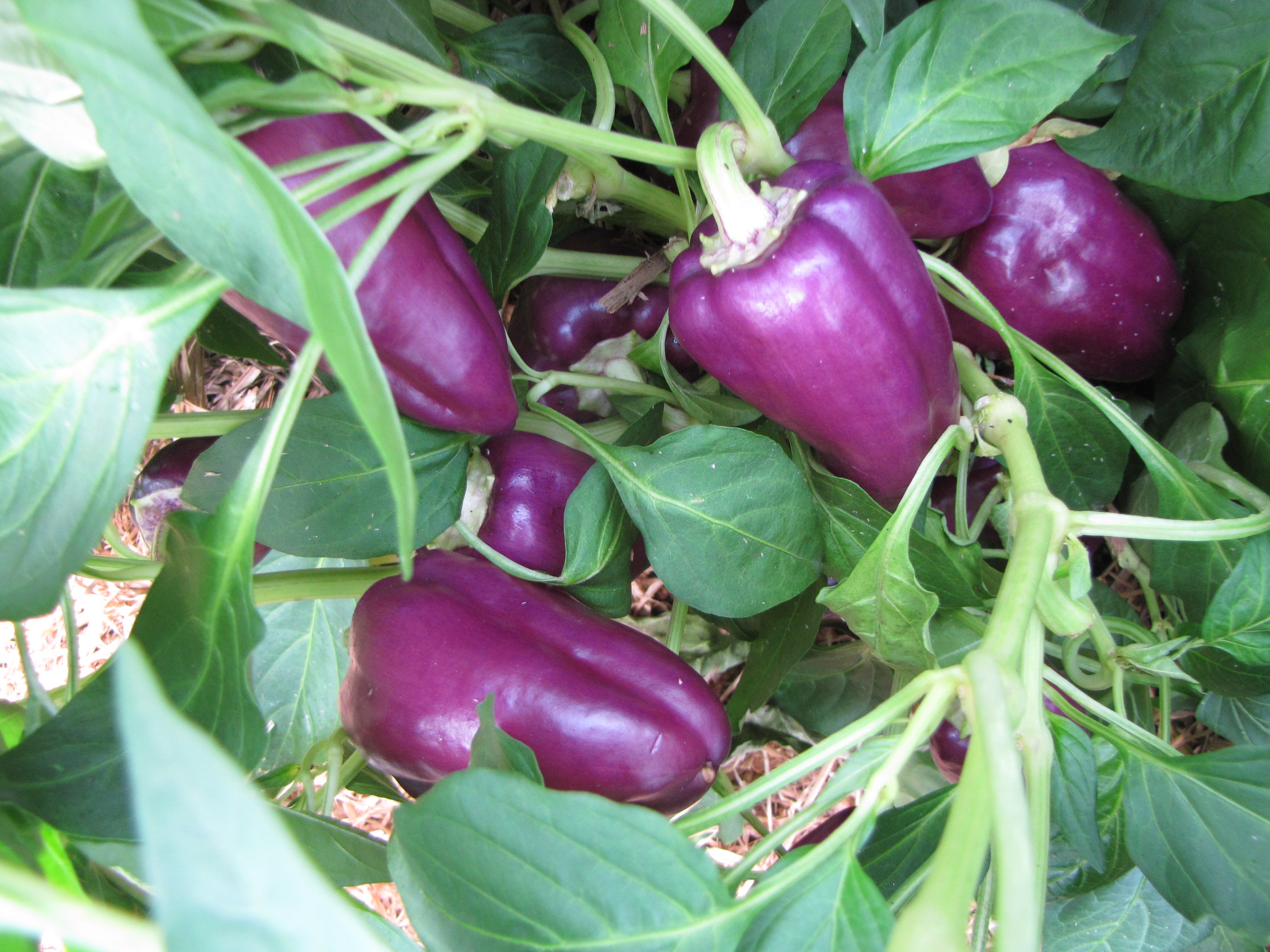 Oda is a wonderful addition through Baker Creek Heirloom Seeds.  Everyone who visits our garden wow's at this prolific bright lavender pepper!  It's a thick-walled, sweet, early pepper with huge production.  Inside, it's light yellow so it makes a stunning addition to salads!  (The wonderful color does disappear on cooking, however.)  Matures to a deep brick red.  70 days
Anaheim Chile  You'll love this productive big chile pepper.  I grew tons when we lived in New Mexico and can even grow them here in Minnesota.  They are 8″ long and about 3″ wide, meaty and very tasty.  You can stuff them, dry them in ristas to hang in your kitchen or can them up.  Mmm  Mmm good!  Mildly hot for a chile too so you won't blister your mouth.  About 70 days to green or 85 to red.
Cubanelle  THE perfect salad, pickling or frying Italian heirloom sweet pepper.  It's thick, long and crunchy with wonderful pepper flavor!  Fry it in a bit of olive oil or roast on the grill.  60 days to yellow green, 80 to red.
PUMPKINS AND SQUASH
---
Seed saving tips, pumpkins and squash: After the squash or pumpkin is ripe, pick it and allow to set for a month.  This lets more sugars migrate to the seeds and ensures viability.  Then remove the seeds and lay out on a cookie sheet to air dry, stirring with your hand every day or two to ensure thorough drying.  Store in an airtight container.
Note: If you plan on saving seeds from your pumpkins or squash, remember that the different species of the genus will cross. So if you plant a C. pepo pumpkin and a C. pepo squash (often zucchini or summer squash), they will cross. Or if you plant a Hopi Pale Grey squash and your next door neighbor grows Hubbards, they'll also cross. But you can plant one of each species, C. pepo, C. maxima, C. mixta and C. moschata and still save pure seeds as they will not cross. To raise pure pumpkin or squash seeds, they will often need to be planted a mile from the nearest like species unless you have a thick woods, tall hills or some other physical barrier between the crops.
PUMPKIN  about 20 seeds per pack unless noted
Atlantic Giant  C. maxima  Atlantic Giant, a variety which has set the record of over a ton of pumpkin in contests amazes folks nationwide.  That's a lot of pumpkin!!!  Without special care, yours probably won't come close but you'll harvest huge pumpkins anyway.  Thick meat!  10 seeds per pack.
Big Max C. maxima  Max is the original "giant pumpkin", first available in the 1950's.  Although it is not as big as the record holder, Atlantic Giant, it does make huge 100 pound plus pumpkins in a more challenging climate than Atlantic Giant.  This was my kids' Giant Pumpkin, for which we searched every Halloween.  He even had a name:  Murphy!  Thick dark yellow meat.  100-110 days.
Howden Pumpkins
Howden  C. pepo This is our "workhorse" in the pumpkin patch!  The bright orange, ribbed pumpkins grow to weigh from between 17 and 58 pounds, having very thick meat.  Our largest last fall was 58.2 pounds. Howden can be used for pie and other baking or feed for homestead animals (they LOVE it!).  The seeds are also good, roasted and salted and it does produce quite a few in each pumpkin.  Rampant vines!  100 days
Moranga del Mesa  C. maxima  Here's the pumpkin chefs have been raving over lately.  This pretty pink 5 pound round, ribbed pumpkin has everyone drooling over.  Not only is it very decorative but makes recipes sing!  100 days
Rouge Vif d'Etampe aka Cinderella  C. maxima  Here's a beautiful red-orange, ribby, productive pumpkin just like the one Cinderella's Fairy Godmother turned into a coach for the ball!  This is one of my favorites for stunning fall displays, weighing 10-25 lbs.  Kids always love this pumpkin.  And it does make excellent soup and pies.  As the flesh is a bit stringy, just throw it in your blender after baking.  Very nice.  95 days
San Filipe Pumpkin
San Filipe  C. pepo  Here's a great old-time Native pumpkin from San Filipe Pueblo in New Mexico, having it all.  It has a somewhat fat, flattened, ribby, dark orange look, averaging about 20 pounds.  The flesh and seeds are great for eating and folks just love the look, especially with the long, strong, twisted handle.  It's also relatively early, coming ripe for us in about 95 days.  Very lusty, long vines.
Winter Luxury  C. pepo  If you want an absolutely gorgeous, refined, round pumpkin that's as good as it gets for pies as well as porch decor, this is IT!  Winter Luxury, developed in the 1800's, is a plump little guy, usually weighing between 9-12 pounds.  But its distinguishing feature is the pale netting, similar to a cantelope's over the ribbed, orange skin, making each pumpkin simply glow.  It's the very best pie pumpkin.  100 days
Galeuse d' Eysines (aka "The Peanut Pumpkin")  C. maxima  An absolutely wonderful, different pumpkin!  It's about 15-25 pounds, a light yellowish tan and covered by peanut-shaped bumps or scars.  When mature, the thick flesh cooks up sweet and smooth.  Note:  this pumpkin is a Cucurbita maxima so it will cross with other C. maxima pumpkins and squash.
SPINACH  about 100 seeds per pack
Bloomsdale Long Standing  I've grown this spinach nearly forever.  In fact, in the mountains of Montana, it lasted all summer, cutting it again and again.  Then it grew back, come spring!  It's the old-fashioned, thick, savoyed leaf spinach that is slow to bolt and go to seed.  45 days or less
SQUASH   Cucurbita maxima about 20 seeds per pack
A bucket load of squash and pumpkins; Canada Crookneck, Winter Luxury & Hopi Pale Grey
Hopi Pale Grey   Our very favorite squash that has just recently been saved from near-extinction!  Not only is the orange meat tender and very sweet but this hardy squash will store under normal household conditions for over 2 years!!!  Talk about your long-term storage foods.  And after a year's storage, the squash will still be juicy and hard…not wilted and half-rotten.  Our favorite "pumpkin" pie is made from Hopi Pale Greys!  These football shaped large squash have a distinctive "bellybutton" on the blossom end and mature to a pale blue-gray in color.  Usually weigh 7-20 pounds. Very rampant vines!!!  100 days
Victor (aka Warty Red Thing)  Victor is an heirloom squash that has recently been re-named to attract attention as a fall decoration.  But its use is better served as an eating squash or to use in pies.  Victor is a bright red-orange larger round squash with a bumpy skin and sturdy stem.  Usually weigh from 10-20 pounds.  Rampant vines.  100 days
SQUASH  Curcurbita moschata
Canada Crookneck  This nice, hard skinned, sweet squash is an ancestor of the popular Butternut.  But the neck is much longer, being solid meat with no seeds!  Just slice the neck and place on a cookie sheet or in a casserole dish.  Yummmm.  Few seeds in the bulb end so you can eat that too.  And it's early maturing too. Usually weigh between 5-7 pounds.  90 days
Geraumon Martinique
Geraumon Martinique is one of our new favorites!  It is a medium sized, hard-shelled, gorgeous squash.  It comes in two shapes; round like a smooth pumpkin and bottle shaped.  The color combinations are fantastic with green and white stripes, green with tan and gold stripes.  BEAUTIFUL!  AND it's wonderful baked, too.  Be the first to grow this highly productive squash in your neighborhood, as we were.  100 days
Waltham Butternut  One of Grandma's and Mom's favorite winter squash.  Weighing from 4-7 pounds, they are just right for most family dinners.  The neck is solid orange meat and there are a few seeds in the "bowl" on the blossom end so you can bake the whole works after removing the seeds.  Sweet, tender and long-keeping.  100 days.
TOMATOES  about 20 seeds per pack except where noted
Seed saving tips;  Separate tomato varieties by several feet to ensure pure seed for gardening uses.  Let tomatoes mature then cut in half or smaller pieces so you can squeeze out the gel and seeds from the seed cavities into a cup or bowl.  Add equal amount of warm water.  Let sit on the counter for 3-4 days.  A white mold will form; this is natural.  Dump out into a wire sieve in the sink and run lukewarm water through while running your fingertips over seeds, gently pressing out the "goop".  This leaves clean, viable seeds.  (Did you know the clearish gel around the tomato seeds is put there to prevent the seeds from germinating inside the tomato?)  Fermenting the seeds and gel dissolves the gel and also helps prevent tomato diseases.
The dates given are from transplant time.  Start your tomatoes indoors 8-10 weeks prior to setting them out in the garden.  We use Wall 'O Water plant protectors on all of our tomatoes which allows us to put them in the garden way before our spring frosts are over with.  They will protect seedling tomatoes down to 16 degrees.  (I've had a foot of snow and 18 degrees when using them and the plants not only survived but grew.)  If you don't use Wall 'O Waters, be sure to harden off your plants by taking them outside, in a protected spot, for first an hour a day, then gradually longer until they are used to wind and sun.  If you don't do this they may break off or become stunted.
Topaz                                             Casady's Folly                           Coyote
Early Firefall                           Japanese Black Trifele                          Berkley Tie-Dye (Pink)
Indeterminate tomatoes are long-vine tomatoes that just keep growing and producing.  They are best caged with a very strong wire cage to hold the weight of all those tomatoes.
Determinates are shorter in size, only reaching a certain height….usually about three feet or so, when they stop pumping out tomatoes.
================================================================
Alpine  Alpine is a plum-sized tomato that is hugely productive.  It's an early, hardy tomato that laughs at cool nights and sets plenty of flowers.  You can use it for salads or for canning juice, sauce and salsa.  We even slice it for early BLTs!  It has good flavor.  55 days Indeterminate
Amish Gold Slicer  We absolutely loved this new tomato from Amish country.  It's big, gold, smooth and hugely productive.  Many tomatoes reached over a pound.  The taste is smooth and wonderful.  I made pretty tomato sauce with it and used lots in colorful salads.  75 days.  Indeterminate
Amos Coli Paste  Here's a new one from tomato guru, Brad Gates, you'll love.  This is a medium-large paste tomato with excellent taste and productivity too.  We found it was quite a lusty grower and the six foot tall vines were covered with red tomatoes, come late summer.  80 days  Indeterminate
Arctic Blum  This tomato really attracted attention in our garden this year as it was covered with two-bite bright red, blemish free fruits.  And everyone who ate it went "Wow!".  I think you will too.  75 days  Indeterminate\
Atkinson
Atkinson  Okay, I'll admit I first bought this tomato because it bears our name but we were also very pleasantly surprised!  Atkinson is a big, beefsteak type tomato with glowing red color and juicy old-fashioned tomato flavor missing in many of today's hybrid tomatoes.  Expect lots of tomatoes mid season to wow you.  80 days  Indeterminate
Andes Paste  We tried many new-to-us paste tomatoes from all over the world this year and were very happy with Andes.  The fruits are larger than Romas and we also found Andes more productive too.  Our plants were 7′ tall!  80 days  Indeterminate
Berkley Pink Tie-Dye
Berkley Tie-Dye (Pink)  This is one of the prettiest tomatoes in our garden!  A large, productive, tasty tomato with plenty of flash.  The base color is deep pink-red with bronze-green stripes down the sides.  So gorgeous!  And the taste is terrific, too.  80 day  Indeterminate
Big White Pink Stripe is one new tomato from Glen Drowns.  It's an old heritage tomato that's really big but ours were very light yellow with no pink stripe.  Maybe it's the climate?  However we loved its shape and taste.  It's a great sandwich tomato, very productive and tasty as can be.  80 days.  Indeterminate
Barry's Crazy Cherry
Barry's Crazy Cherry  We thought this tomato was crazy when we first saw it in bloom!  I've never seen so huge a bunch of blooms on any tomato before; it was like a white lilac!  Tons of blooms everywhere.  We thought nothing would top it until we saw the ripe fruits.  They are the size of plump grapes with a point on the bottom.  Glowing yellow, they even taste like grapes with a firm texture and juicy meat. Super!  75 days  Indeterminate
Here's a BIG Bill Bean tomato grown by customer, Sharon W.
Bill Bean  This is one of our very favorite tomatoes, given us by the local Veteran's Service Officer.  Its history is long and Italian, being brought to this country during World War II by (either) an old Italian man who immigrated to this country with the seeds tucked in his sock or by a returning American GI.  If you like them big, red and tasty, this one is for you!  Our tomatoes averaged over a pound, with several topping out at three pounds of very meaty, delicious old-time tomato flavor.  It is VERY productive too.  Will counted over 20  tomatoes over one pound on one vine…with more smaller ones too! 75-80 days  Indeterminate. As they have so few seeds, there are about 10 seeds per pack.
Bill Bean Select  These are seeds from our biggest yet Bill Bean.  It measured 22 inches around!  If you want BIG genes, these are the seeds for you.  Limited supply, of course.  5 seeds per pack
Black Crimson knocked our socks off!  It's so big, productive and tasty!  Not to mention beautiful.  The tomatoes are dark red with darker shoulders, nearly purple.  They're a great sandwich tomato and stopped everyone in our garden.  You'll love them.  We had no cracking or rotting yet the skin is tender.  75 days.  Indeterminate
Box Car Willie  Here's one of our new favorites!  If you want red, non-blemished, tasty tomatoes, this is it.  Weighing about 8 oz on average, this hugely productive tomato will keep you in tomatoes right through till frost and even after if you pick them and bring them inside before they get frozen.  They're great for canning, juice or in salads and sandwiches.  A truly great tomato.  80 days  Indeterminate
Brandywine (Red) We tried a different strain of Brandywine a few years ago and didn't find it particularly great.  So we tried another and this one is a winner, showing us what all the fuss is about regarding Brandywine's unsurpassed flavor.  It IS great, especially for those of you with longer growing seasons.  Big red tomatoes with old fashioned flavor.  Does have rougher shoulders but ours didn't crack.  Many were over a pound.  85 days  Indeterminate
Wyatt says, "Wow!  Look at that tomato!  Is it all mine????"
Cannonball  We were given some seeds by a friend, Dr. Lee from NDSU of this old variety they had developed.  And boy did we LOVE it!  Cannonball is a large, smooth, round red tomato that just shines in every way; taste, productivity, appearance and earliness.  Many reached a pound in size and the vines were just covered in red until frost. 65 days  Indeterminate
Casady's Folly  Every year we find new favorites and this is it!!  (Okay, one of them…)  This is a nice sized paste tomato that knocks your eyes out with its beauty.  It's bright red with shining lightening stripes in yellow.  And the vines are just loaded with fruit!  The taste is a bit average but the beauty makes you drool for a salad.  It is meaty and makes great tomato sauce in a hurry.  We love it!  75 days  Indeterminate
Cherokee Purple
Cherokee Purple  A reliable, real big, tasty tomato that deserves to be in everyone's garden.  Its old Native American heritage brings history to your homestead in a big way.  You'll love its hardiness and ability to handle nasty weather.  We can up lots of these great tomatoes and enjoy them on our lunch sandwiches too.  They are a darkish purple-brown, fading to red below.  Real pretty!  80 days  Indeterminate
Coldset is a small red tomato that, despite its name, isn't particularly early.  But it is tasty and productive with few blemishes.  Great for canning and juicing or to add in salads.  Easy to ready for canning as the stem pulls right off!  75 days  Indeterminate
Cougar Red  Want a gorgeous small shining red tomato with no blemishes that will not only produce lots and quickly but taste great too?  Here is is.  Red just glistens and begs for you to take a taste in the garden.  70 days Indeterminate
Coyote cherry tomatoes
Coyote is no dog!  Wow, another NEW favorite for sure.  Originally from Vera Cruz, Mexico. a nearly see-through, glistening pale yellow with a real different, wonderfully fruity taste that demands MORE!  I gobbled more than my share in the garden this summer.  Luckily, the vines are hugely productive so we could all have plenty.  Next year I'll plant more and make a wonderful yellow salsa from its fruit.  The skin is crisp and these tomatoes eat like a big, crisp grape.  You'll love them.  70 days  Indeterminate
Delicious  I've raised Delicious for years and it is just that; full of old-fashioned tomato flavor.  This round, bright red tomato is very productive and large.  It has even set the previous World record for the biggest tomato.  (The current is held by a hybrid!)  We harvested baskets full of these juicy tomatoes this summer.  75 days  Indeterminate
Dora  Folks went wild for Dora this summer.  It is a fatty but simply adorable, weighing about 12 ounces with great flavor.  Very productive, too!  From Mo, a stable cross between two flavor-favorites, Cherokee Purple and Brandywine.  You'll love Dora!  75 days Indeterminate
Doucet's Plum Producer  Hey with a name like this, don't you expect it to be great?  Well, it IS.  Producer was not only early but packed on tons of small, tasty tomatoes.  Each fruit was smooth and blemish free.  From Quebec, this is an excellent early paste tomato that also works well for sauce and whole canning. Averaged about 4 oz.  65 days  Indeterminate
Doucet's Plum Red  This open pollinated gem came to us from Glen Drowns' Sandhills Preservation Center and quickly became another of our new favorites!  It is simply covered with perfect, plum-sized red tomatoes all season, from early to frost and beyond.  The taste is supreme and we love it for a sauce tomato as its so thick walled and tasty.  60 days  Indeterminate
Ernie's Nose
Ernie's Nose  Our friends from southern California, John and Mia, sent us seeds for this new favorite, long a favorite of theirs.  Ernie's Nose does have a nose on the end, along with lots of old Italian paste flavor for all those sauces you want to make.  This tomato is hugely productive all season long.  We'll always grow this one!  75 days Indeterminate
Earl of Edgecombe  Another of Glen Drowns' finds!  The Earl is a gorgeous bright yellow, large beefsteak type tomato that averages about 6-8 oz.  It is a bit late but has a wonderful sweet taste and is quite productive.  I used it to make some great multi-colored salsa this year.  85-90 days  Indeterminate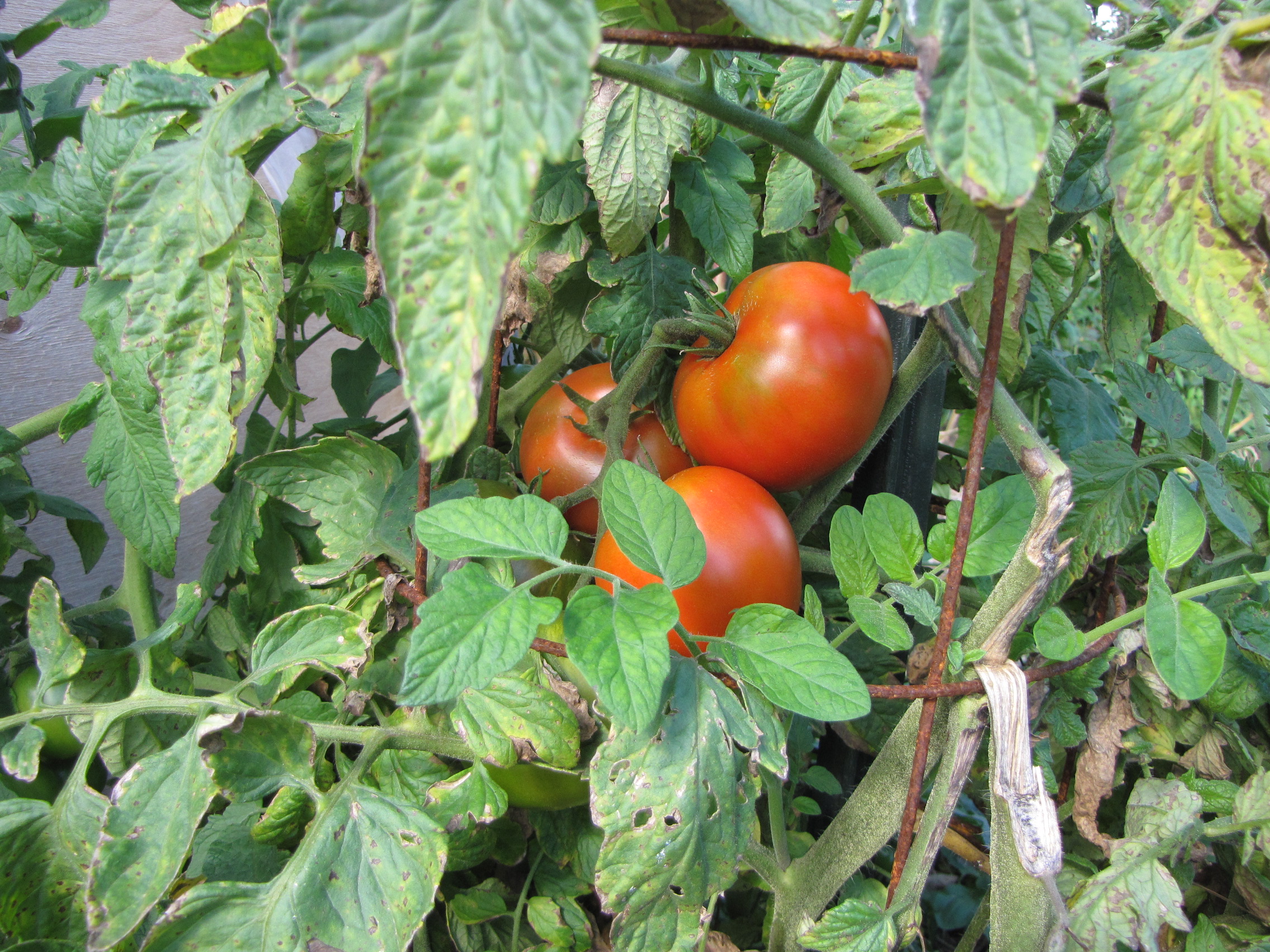 Earlibell
Earlibell  A nice medium sized round, red canning/juice tomato with good old tomato flavor.  Sold by Gurneys back in 1922 as their "earliest" tomato.  Surpassed for earliness today, it is still a worthwhile garden tomato that produces well.  75 days  Semi-determinate
Early Cascade   Has been one of my favorite early tomatoes for decades.  Unfortunately, when Seminis was bought out by Monsanto, they dumped this great variety.  Luckily, a tomato breeder in Canada saved it by breeding it back to open pollinated from hybrid.  I bought seeds last year and grew out some great red golf ball sized, tasty, productive tomatoes.  As its so early and so good, I hope to grow it again every year.  55 days  Indeterminate
Enormous Plum Paste

Enormous Plum  We love our paste tomatoes and with us, the more the merrier.  And when they're this big we rejoice!  There are few seeds and lots of flavorful dry flesh in these really big boys.  You'll love 'em too!  85 days  Indeterminate
Farthest North  Looking for a hugely productive, tasty, early tomato?  Here it is!  Although it's a plum-sized tomato, I've quickly gotten thrilled about it for saucing as its so thick-walled and perfect that I just toss 'em in my tomato strainer to make sauce in a jiffy.  Great taste for such an early tomato too!  They make your tomato vines glow red all summer long.  55 days  Indeterminate
G. Chalmers Large Paste
G. Chalmers Large Paste  Here's an interesting large paste tomato; the shape is pleated a bit, not smooth like a typical paste.  So they are extremely attractive.  This red tomato is, like its name, large and very, very productive.  It's a lucky thing too, as they're so good!  They came on quite early and popped out tomatoes until after it frosted.  75 days  Indeterminate
Glacier  Want an early, tasty tomato that's a bit larger?  Glacier pumps out tons of small–mid sized tomatoes very early in the season and keeps on producing until it freezes.  While it won't survive a glacier, it will fill your pantry with tomato products!  60 days  Indeterminate
Gilbertie  This is another very productive, smooth skinned larger paste tomato we loved.  Just a few will make a lot of tomato sauce with deep, sweet flavor.  I'll grow more next year for sure!  80 days  Indeterminate
Golden Jubilee We first grew Jubilee three years ago and it instantly became a favorite. For a mid-sized to large yellow tomato, it's very sweet and hugely productive. We were impressed at how meaty it was too. They're great diced up in a salad or in salsa or slabbed between two slices of homemade bread. 72 days Indeterminate
Golden King of Siberia
Golden King of Siberia  So how many new favorites can I have?  King is wonderful!  I love it!  It is gorgeous; big, glowing yellow, some heart-shaped; some round but all tasty, tasty, tasty.  Hugely productive right up until freezing too.  Great for canning, sandwiches and salads as it is quite meaty and flavorful.  80 days  Indeterminate.
Granny Cantrell  This is one sweet old-fashioned tomato!  Like one of the old fashioned red beefsteaks only with more flavor and more productive.  Brought over from Europe by a returning WWII GI, this favorite soon swept the South.  We really liked it a lot, many over a pound.  78 days Indeterminate.
Hanky Red  Okay, do I get another favorite???  This year Hanky was our first-to-ripen tomato (tied with Morovsky Div) and wow do I like it.  It is a nice balance between sweet and acid, juicy, tender skinned and from between 4-6 oz of shiny red goodness.  Huge production too.  Right up until it froze.  Round and smooth. Good for canning or juice.  60 days  Determinate
Hillbilly  Here's an old heirloom main crop red tomato from West Virginia's hill country where it's been a family favorite for decades.  They're huge golden, beefsteak tomatoes with a pretty red blushed star on the blossom end, streaking up through the fruit.  Flavor is simply the best but for us its a little late at 85-90 days.  I wish we could have had more!  Indeterminate
Hungry Hill
Hungry Hill  We were surprised at this heirloom tomato!  The vines were ablaze with BIG, red beefsteak tomatoes all summer and fall.  They just kept on coming!  Wow!  You'd have to be really hungry to eat all of them.  And the taste was a perfect balance of acid to sweet.  Most weighed in at a pound or more.  75 days  Indeterminate
Igelheart Yellow Cherry
Igelheart Yellow Cherry  We grew yet another yellow cherry tomato this year as it was rated Number One in taste by the Seed Savers Exchange taste test in 2015.  And in our own taste test, it was right up there!  A great, crisp textured fruity tomato that made our mouth say "white grape".  You could put it on fruit salads.  Yummy!  75 days indeterminate
Indigo Blue Beauty
Indigo Blue Beauty  Okay, here it is!  You want a beautiful, productive, tasty tomato that's early-mid season?  You can't beat Indigo Blue Beauty!!  This tomato is gorgeous and attracted plenty of attention in our garden.  The top is a wonderful, shining eggplant purple and it ripens to a streaked orange red below.  You'll never eat a more tasty tomato.  Lookout Brandywine!  75 days  Indeterminate.
Italian Tree tomatoes are luscious and sure cover a slice of bread!
Italian Tree Tomato (aka Climbing Triple-Crop) If lots and lots of big red, tasty tomatoes is your game, Italian Tree Tomatoes are your crop.  The vines are rampant and with a long enough season, the vines will reach 15′ or more.  The tomatoes are huge, usually a pound or more and very tasty as is typical with Italian tomatoes.  A friend of ours keeps one in his greenhouse all year long and its vines grow all across the top, now reaching 3o' and it showers them with great tomatoes even in the winter.  We can only grow them in the summer, but are so glad they're in our garden.  80-9o days  Very Indeterminate!
Japanese Black Trifele
Japanese Black Trifele came from Russia originally.  But what a great tomato!  It is roughly pear-shaped with deep orange on the bottom and greenish purple on the top.  The flesh is burnt orange-purple and when you cut it in half it looks like a luscious plum!  Nice and meaty with a complex, great taste that everyone loves.  A great sauce/salad tomato that chefs love.  You will too as it is hugely productive and gorgeous.  78 days  Indeterminate
Jaune Flamme  This is almost a "big" brother to SunSugar, the super-sweet hybrid cherry tomato!  It is about 3 oz and a round, golden tomato with no blemishes.  We grew it for the first time a few years ago and continue to do so now.  Couldn't be without this hugely productive gem!  The vines were just loaded with sweet, fruity tomatoes all fall.  75 days  Indeterminate
Mary Robinson's German Bicolor with some Punta Bandas
Mary Robinsons German Bi-color is a gorgeous bright yellow-orange with lots of red streaking through it from the blossom end.  Many fruits weigh over 2 pounds!  And the taste can't be beat, either.  Just right for a whole sandwich tomato slice or some gorgeous multi-colored salsa.  Did I mention it's hugely productive too?  80 days  Indeterminate
Mia's Italian Paste
Mia's Italian Paste  Another great Italian tomato passed on to us from our California friends, John and Mia.  And it's one which has won a permanent place in our garden for sure.  Not only is it hugely productive but it's tasty and one of our earliest paste tomatoes.  This tomato is orange-red and varies in shape from heart to round but the flavor and texture is superb.  70 days  Indeterminate
Morovsky Div
Morovsky Div  It took a greatly productive tomato to tie with our favorite sauce tomato, Punta Banda but this year, this Russian heirloom did it!  It's not large, plum to medium sized, but huge on flavor, meatiness and bright red color.  Every tomato was perfect and thick walled, yet had a thinner skin so we found ourselves munching on them instead of cherry tomatoes.  55 days  Indeterminate
Mortgage Lifter  Here's another heirloom with a sweet history.  The breeder developed and sold these "new" tomatoes during hard times and was able to pay off his mortgage with the profits.  Another example of getting ahead by coloring outside of the box!!  Mortgage Lifter is a large, meaty red tomato with a sweet, rich flavor you'll love.  Enjoy!  80 days  Indeterminate
Mule Team  I think Will picked this one because he used to raise and log with mules!  But I'm glad he did as it quickly astounded us with its hugely productive, round, medium sized red tomatoes that have an excellent meaty, juicy, sweet flavor.  They are pumped out until it freezes and you'll be so glad they do when canning time comes!!  78 days  Indeterminate
Old German  This old heirloom was prized by the Virginia Mennonite settlers for its huge size, beauty and wonderful taste.  The huge tomatoes often reach two pounds and are a beautiful yellow and red striped color throughout.  We love them on sandwiches or to just eat warm from the sun right in the garden.  75 days  Indeterminate
Oregon Spring  I've grown Oregon Spring everywhere I've lived for decades.  No matter what your climate, it seems to always produce!  Not only are they early but also pretty large, round and perfect.  And, especially for an early tomato, they are very good flavored and juicy.  60 days  Determinate
Paw Paw  You'll have to search for a prettier, more unique large tomato.  Paw Paw is golden yellow with some red streaks throughout.  It is a large, beefsteak-type with great old fashioned taste that is absolutely gorgeous on a sandwich!  Fairly meaty for a large tomato, too.  We had great production, considering how large these tomatoes are.  Originally from West Virginia, nearly 100 years back.  85 days  Indeterminate
Peron
Peron  Often called "sprayless" because of its natural disease resistance, we were surprised at both the productivity, appearance and taste of this red, roundish tomato.  Although the name kind of put us off, we were convinced easily to keep Peron around in the years to come.  75 days.  Indeterminate
Pink Heart  comes to us from Hungary and is a very solid, heart-shaped red tomato that is very flavorful and productive too.  It can either be used for fresh slicing or as a tasty paste tomato.  80 days.  Indeterminate.
Pioneer works well for we modern homesteaders.  It is a smallish tomato that cans up whole and is excellent for juice.  It is a round, red tomato on a small determinate bush for folks with limited space that need high production.  No blemishes here!  65 days  Determinate
Pruden's Purple  If you like a big, dark red beefsteak with taste to rival Brandywine and Cherokee Purple, you've got to give this old heirloom a try.  Many were over a pound and had smooth, old fashioned tomato flavor that sent tomato juice down our chins all fall.  Great for sandwiches, salads, canning and snacking on.  80 days  Indeterminate.
            Punta Bandas make an excellent canning and paste tomato with no blemishes.
Punta Banda  Coming to us from Old Mexico, this formerly wild tomato is Will's very favorite tomato for making tomato sauces.  Each tomato on the hugely productive vine is perfect and meaty for a small plum-sized fruit.  It makes canning a breeze as we just pull off the stem and toss them into our tomato strainer and grind away, watching the sauce come pouring out.  MMmmmm.  These are a very hardy red tomato that laughs at heat and drought.  60 days  Determinate that is covered with red fruit!
Rebekah Allen is an old heirloom big red tomato with flavor you'll love!  It has it all.  It's a nice sized, very productive tomato with one of the best flavors of all of ours.  Great for eating fresh, canning or juice.  For an early big tomato it can't be beaten.  70 days Indeterminate.
Red River is an old Oscar Will canning tomato from way back when.  It's a great red tomato for canning whole or juice and wonderful in salads due to its great flavor.   Very productive too for a determinate variety, being covered with plum-sized fruit.  65 days.
Rio Grande Paste  We're always looking for a good, early paste tomato.  Rio Grande is a nice, smooth, fairly early tomato with average production and good flavor for sauce.  Very few blemishes.  A shining red, longish round fruit.  70 days  Indeterminate.
Ruth Collier Large Paste
Ruth Collier Large Paste  Here's a different looking paste tomato.  Instead of pear-shaped, it's huge and roundish, often with a nipple on the blossom end.  And it's hugely productive, too!  We cranked out gallons of thick tomato sauce from this new favorite sent to us by…Ruth Collier!  Very tasty and meaty.  85 days  Indeterminate
Sausage is a great tasting long, red, fat paste tomato that we just loved.  The taste is above average, as is the production.  They are a bit late but well worth the wait as they are smooth with few blemishes.  Great for all that tomato sauce!  80 days  Indeterminate.
Silvery Fir Tree  We've grown this attractive, early tomato for decades now and we really do love it.  The leaves are frilly and fine like a carrot instead of a tomato, giving this determinate bush a very pretty look.  Especially when nested in the center are dozens of 10 ounce, round, smooth red tomatoes!  And for such an early tomato, the taste is exceptional.  60 days Determinate
Solar Flare  is one of Brad Gates' wonderful modern open pollinated creations.  This is one gorgeous tomato, no matter how you look at it.  It is a glowing red, shot with bright yellow stripes.  The fruits are generally large and round with plenty of taste to go along with all that beauty.  We just loved them.  You will too!  70 days  Indeterminate.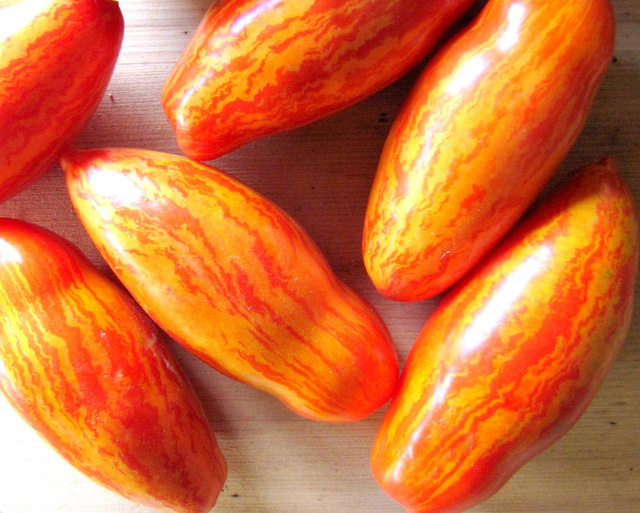 Speckled Roman
Speckled Roman  This relatively newer open pollinated gem won our hearts!  This paste tomato has the typical paste tomato shape; elongated with a point on the blossom end.  BUT the color knocks your socks off!  It's bright red shot with yellow stripes.  What a HOT tomato!  And it topped our farm's taste test this year too.  It made the best tasting sauce of any tomato we grew.  And it was productive too.  What's not to love???  Well, it is susceptible to disease in wet growing conditions.  80 days  Indeterminate.
Sungold Select  For years we've loved the taste of hybrid cherry tomato, Sungold.  But, darned it, it's a hybrid.  Luckily, some folks have bred it back to open pollinated through years of work.  The result is wonderful.  Sungold Select's flavor is wonderful and the golden cherry tomatoes are very productive.  Do understand, however, there are still a few seeds which produce red cherry tomatoes yet.  You can enjoy these as the flavor is wonderful.  But save your seeds from the golden ones if you want to continue breeding Sungold Selects.  Out of five plants, I got four golden tomatoes and one red.  We kept them all harvested most of the summer and ate most of them!!!  Couldn't stop.  65 days  Intermediate.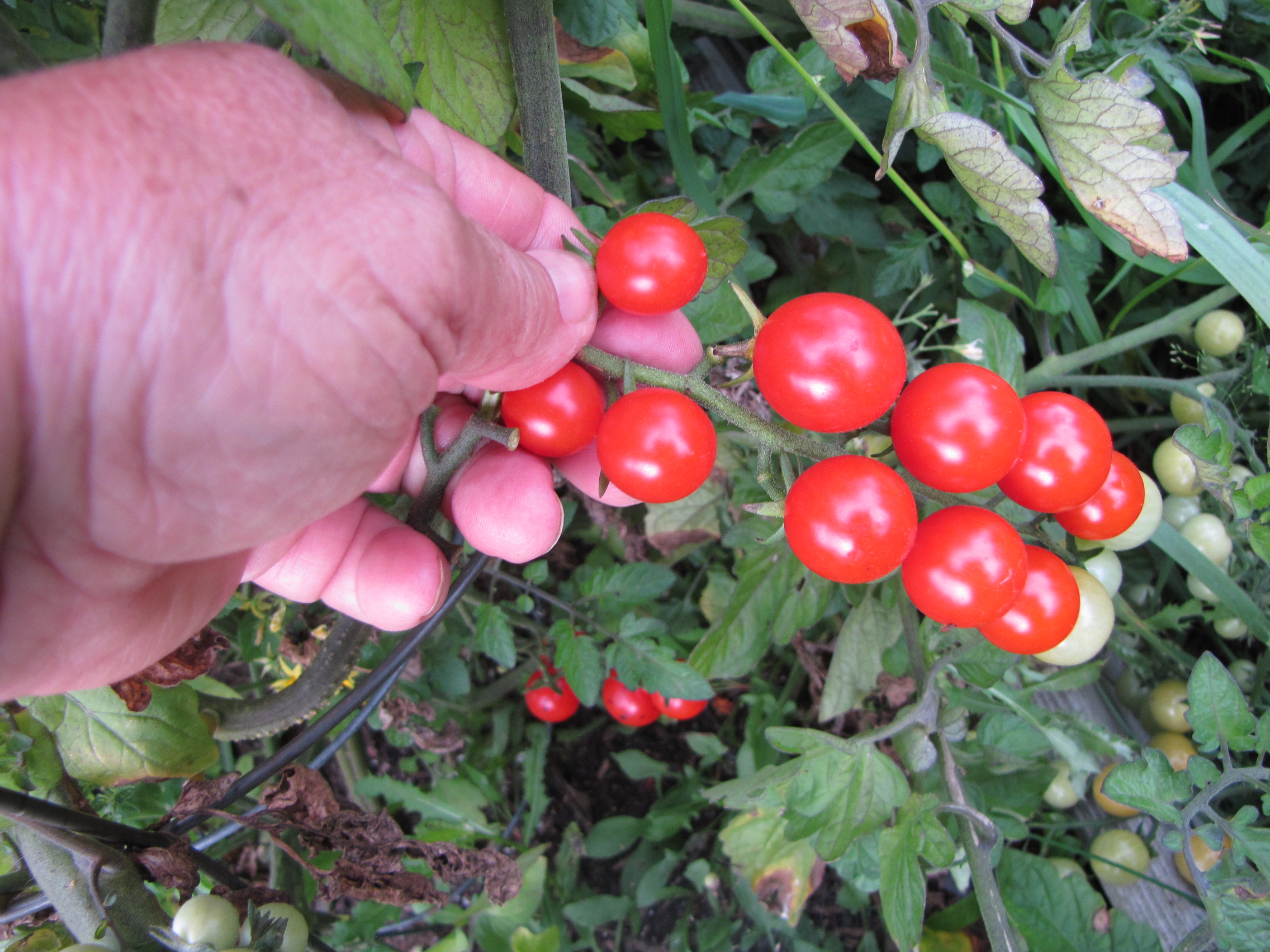 Sweet Aperitif is a gorgeous, sweet cherry that just glows.
Sweet Aperitif  (Pronounced A pear it ief) We don't grow a lot of cherry tomatoes.  After all, how many can you eat in a season???  But Sweet Aperitif is a winner!  From England, this sweetie produces tons of little cherries that are the sweetest cherry tomato you can find.  And the best news is that it's open pollinated so you can save your own seeds, unlike SunSugar or Sweet Million, that are hybrids..  Indeterminate and covered with fruit.  65 days
Sweet Home is a sweetheart!  I just love this variety.  So hugely productive of medium/large smooth red tomatoes with just a little ribbing on the shoulders which makes them look like those tomatoes Grandma used to raise. A wonderful slicer and canner, not to mention something to snack on in the garden.  Mmmmm  75 days  Indeterminate.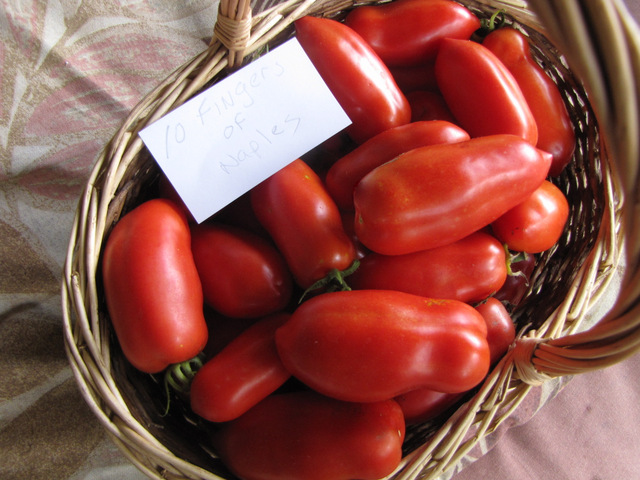 Ten Fingers of Naples
Ten Fingers of Naples is not just another paste tomato.  It's a star!!!  The name comes from the area in which it originated coupled with the fact these dense, luscious tomatoes hang in bunches from their vines.  Awesome and truly hugely productive.  You'll get lots of very thick tomato sauce from these and the flavor is perfect.  Wow!  80 days  Indeterminate
Terhune  We were given a plant by a friend and it quickly impressed us with the number and size of this quality red beefsteak-type tomato.  The vines were just loaded with super tasty, solid, glowing red fruit.  This is a keeper for sure and we'll be adding it every year to our own homestead garden.  75 days  Indeterminate.
Thesaloniki is a big red, very flavorful Greek tomato that we just fell in love with this summer.  It was very productive, the vines producing an abundance of big one pound plus tomatoes we just loved to slice.  It also made lots of great tomato sauce too.  70 days  Indeterminate
Tigerella We love pretty tomatoes that are very productive and Tigerella fits the bill. Tigerella produces tons of salad type bright red tomatoes with tender skin, overlaid with yellow and orange stripes. They also have great taste. Try a plant or two in your house garden for summer salads! 65 days.
Topaz is a new favorite of ours.  Really!  These gorgeous light yellow with faint white stripes can't be beaten.  They are a small, salad-ping-pong ball size tomato that will make your salads go WOW.  Great for mixed colored salsas or canning whole with red tomatoes for something beautiful and different.  And they have great, complex flavor too that makes you drool. Hugely productive too!  75 days Indeterminate.
TURNIPS  About 100 seeds per pack
Purple Top White Globe  Here's an old-time pioneer variety that we still love today.  They are sweet, mild and easy to grow, loving the cool weather of fall the best.  You can not only eat them, cooked and raw but also save some to feed to your chickens or livestock.  50 days
Shogoin  This great, pretty white round, smooth turnip is so tasty.  We like to nibble on them raw in the garden, grate into salads and use in dozens of recipes.  I love them creamed, in place of potatoes as a main side dish.  50 days
WATERMELON  About 25 seeds per pack
Blacktail Mountain  A great favorite of we gardeners who grow in inhospitable climates!  Bred by Glenn Drowns, this round 5-10 pound very dark watermelon with faint stripes has excellent pink, juicy, sweet, crisp flesh.  Juice just runs down our chins when we gobble the first ripe melon of the year.  We direct seed into a hoop house and harvest ripe melons around September 6th on till freezing.  75 days
THIS YEAR WE'RE ADDING A FEW OF OUR FAVORITE EASY TO GROW FLOWERS AS WE BELIEVE FLOWERS FEED YOUR SOUL
FLOWERS
California Poppy Do you want a super easy annual for less than perfect growing areas that are too dry and sunny? The bright yellow gold California Poppy is the ticket for you. Very easy to establish and self-seeds without becoming invasive. We love ours! About 200 seeds per pack.
Cosmos Here's one of my favorite flowers as it not only is very easy to grow but tall and beautiful daisy-like flowers in all colors from white to pinks and lavenders too. A bed of these will take your eye all summer. About 100 seeds per pack.
Gloriosa Daisy Like me, do you love bright, tough flowers that are a no-fuss kind of bloom? These are large bloomed, yellows and orange daisy-like flowers that bloom well all late summer and fall. They also self-seed but never get out of bounds. About 20" tall. Roughly 50 seeds per pack.
Mountain Garland or Clarkia I grow lots of these beauties, which come in a wide variety of colors every year in my wild cottage garden. They are super easy and will reward you with 18" plants loaded with gorgeous blooms in white, pink, purple and rose all summer. About 100 seeds per pack.
Purple Coneflowers are loved by butterflies!
Purple Coneflower If you want a pretty flower that comes back every year, this is a great one to plant. If you start the seeds early in the spring, indoors, they will bloom the first year, then not only come back every year thereafter but also reseed gently. They never get invasive but you'll love them popping up here and there in your flower bed as the big, lavender daisy-like blooms bring cheer to late summer and fall landscaping. Roughly 50 seeds per pack. Seeds germinate best after chilling in the refrigerator for several weeks before planting.
Red Corn Poppy aka Flanders Poppy I grow these among my California poppies for a knock-your-eyeballs-out display. These poppies are red, red, red like the ones we buy to honor our Veterans only they grow all summer in your garden. AND they are easy to grow and often self-seed too! About 200 seeds per pack.
Spurred Snapdragon aka Linaria Here's another of my favorites for a wild planting or cottage garden. They do well in annual flower beds, too. They are about two feet or less tall, having a stem of wonderfully colored tiny "snapdragon" blooms in all shades with lots of bi-colors. As they are so beautiful, you'll like them in mass plantings as well as scattered throughout your cottage garden or wildflower bed. They self-seed nicely without becoming unmannerly. About 200 seeds per pack.
Zinnia, Dahlia Flowered Mix Want a flashy, tough flower border that doesn't require lots of work? Zinnias are it! And these large fluffy flowers in all colors of the rainbow are just great. About 24" tall, they sure make a bold statement wherever you put them. And as they bloom quite early, they'll show off all summer and fall. They are easy to save seeds from too for next year's beds. About 50 seeds per pack.
BOOKS YOU MAY LIKE BY JACKIE CLAY
GROWING AND CANNING YOUR OWN FOOD not only tells you how to can up hundreds of different foods safely and easily but it helps you learn to grow them too! You'll find that this book contains three times more recipes for you to can up than any other canning book out there. Fill your pantry with delicious, convenient to fix food that will last for years. If you've never canned before or if you've gotten away from it and want easy to follow instructions, here's the book for you. $25.00 and I'll autograph it if you'd like.
JACKIE CLAY'S PANTRY COOKBOOK contains dozens and dozens of easy to fix, delicious recipes that use only ingredients found in your pantry and garden. Many of these are heirloom recipes from days past when quick to fix, hearty meals were necessary. You'll love each and every single one of them as you discover exciting ways to use the food you've canned up and already have in your kitchen. $25.00 and I'll autograph it if you'd like.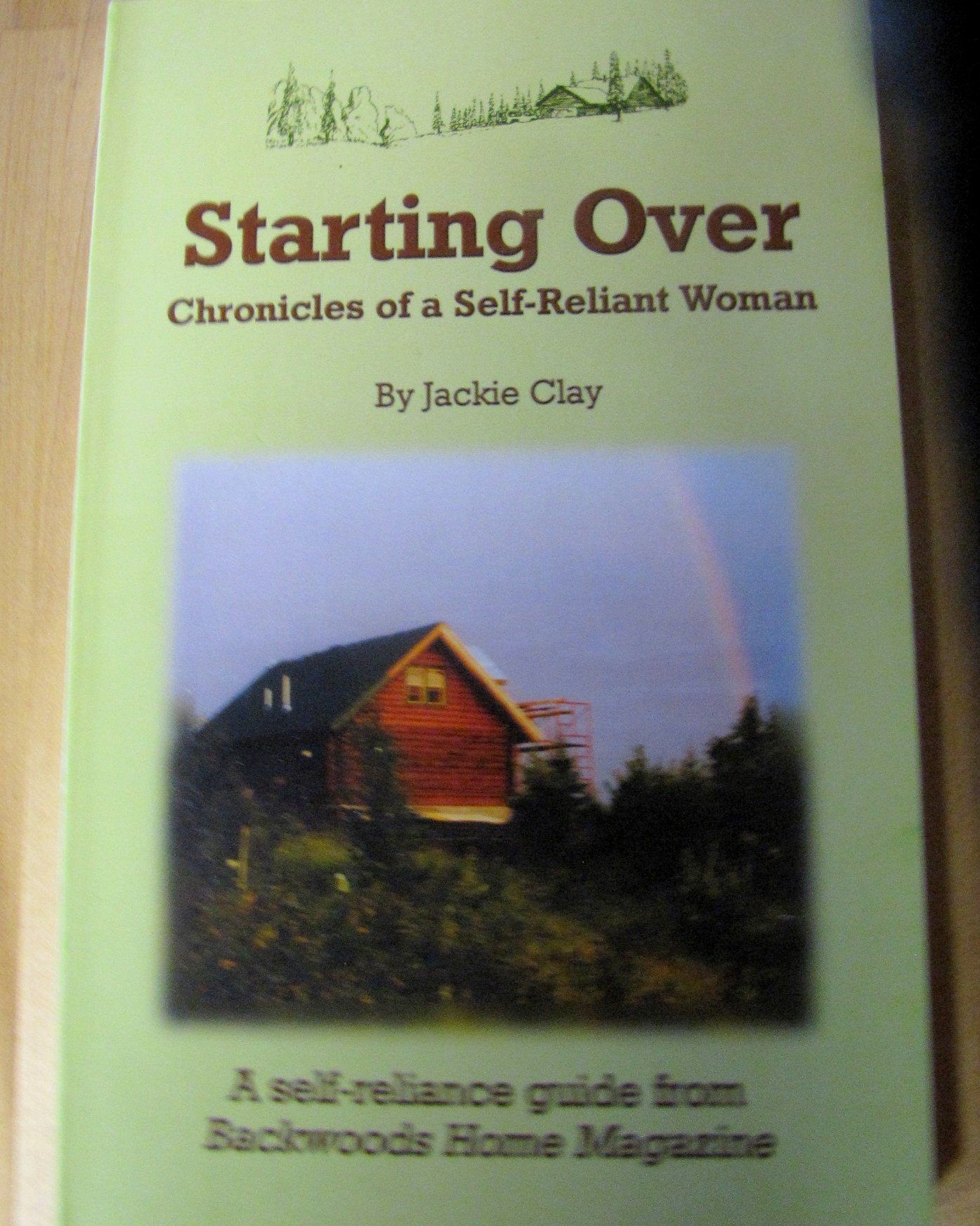 STARTING OVER tells the story of the beginnings of our new homestead here in Northern Minnesota. We moved onto raw, wild land in February of 2003 and started over, living in a travel trailer in the middle of the woods. You'll find this book inspiring and sometimes hard to believe; it may make you laugh or cry. But I guarantee you'll love it. $15.00 and I'll autograph it for you if you'd like.
HOMESTEADING SIMPLIFIED; Living the Good Life Without Losing Your Mind is a book for both new and life-long homesteaders. This book will help you along the whole path from finding land, building, gardening, stocking it with animals, handling your water system, fencing, tools that will help your life be easier and much, much more. It's well illustrated and will do much to help you avoid "homesteader burnout" and frustration. $20.00 and I'll autograph it if you'd like.
Non priority shipping cost on books is $4.95 for one book or $7.95 for two or more.
ORDER FORM  (PLEASE FEEL FREE TO COPY AND PASTE)
VARIETY             # OF PACKS                        PRICE  ($2.50 ea)
———————————————————————————————————————————————————————————————————————————————————————————————————————————————————————————————————————————————————————————————————————————————————————————————————————————————————————————————————————————————————————————————————————————————————————————————————————————————————————————————————————————————————————————————————————————————————————————————————————————————————————————————————————————————————————————————————————————————————————————————————————————————————————————————————————————————————————————————————————————————————————————————————————————————————————————————————————————————————————————————————————————————————————————————————————————————————————————————————————————————————————————————————————————————————————————————————————————————————————————————————————————————————————————————————————————————————————————————————————————————-
subtotal  ——————-
Shipping for books (non-priority)         _____________
Postage ($4 for any size order)       ——————–
Total (Check, cash or Money Order)     ——————–
Our address is:  Seed Treasures, 8533 Hwy 25, Angora, MN  55703
You can make checks or money orders out to Jackie & Will Atkinson . We do accept cash but advise against it for your safety. Thank you.  All seeds are guaranteed to grow with good care or will be cheerfully replaced.  All seeds are tested for germination.